What's the Most Metal Thing You've Ever Done?
| | |
| --- | --- |
| [METALHEAD128] Saturday, February 14, 2009 10:59:38 PM | |
Everything I do is METAL!!!!!!!!!!!!
| | |
| --- | --- |
| [spapad] Saturday, February 14, 2009 9:14:11 PM | |
| | |
| --- | --- |
| [adrianaec_88] Saturday, February 14, 2009 9:11:47 PM | |
Ha!! that would be cool..... anyway I was looking for some info of that tour.. I know you can find of the bootleg of June 17th, but they were in Toronto... haven't found anything of that concert in Clarkston, only the pic of the ticket LOL
[Show/Hide Quoted Message]
(Quoting Message by guidogodoy from Saturday, February 14, 2009 8:40:19 PM)
| | |
| --- | --- |
| [guidogodoy] Saturday, February 14, 2009 8:40:19 PM | |
I'm still looking. How funny would THAT be...crazy guido rushing up on a frightened Bruce! HAAA!!!
[Show/Hide Quoted Message] (Quoting Message by Lidija from Saturday, February 14, 2009 3:47:35 PM)
| | |
| --- | --- |
| [Lidija] Saturday, February 14, 2009 3:47:35 PM | |
Waaaay cool Guido, things are going out step by step, I really hope the bootleg will apear for you someday somewhere, you never know!
[Show/Hide Quoted Message] (Quoting Message by guidogodoy from Saturday, February 14, 2009 12:29:30 AM)
| | |
| --- | --- |
| [guidogodoy] Saturday, February 14, 2009 12:50:31 AM | |
Thanks. Take a gander at the pic I had put that sticker on...I think I bought it at a Grateful Dead concert if I am not mistaken! HAAA!! Had a running agreement with my girlfriend at the time. She would follow me with Priest and I'd follow her to see the Dead. Perhaps a bit of nostalgic Victim or the Crime in her (and this cool artist's) honor. I believe I paid some five bucks for this..anyone know if he is famous yet? HAAAA!!

[Show/Hide Quoted Message]
(Quoting Message by Becks from Saturday, February 14, 2009 12:38:05 AM)
| | |
| --- | --- |
| [Becks] Saturday, February 14, 2009 12:38:05 AM | |
That's awesome guido!

I don't have anything that springs to mind, LOL eventually I'm sure I'll have something of worth to add to this thread haha.
| | |
| --- | --- |
| [Vaillant 3.0] Saturday, February 14, 2009 12:35:06 AM | |
| | |
| --- | --- |
| [guidogodoy] Saturday, February 14, 2009 12:29:30 AM | |
Ahhh...here is the thread in question. Thanks, Vail.

Ok. This is really for Lidija (Bev+) who asked for it years ago but my little brother just found it at Mom's house and sent it to me. A picture of the backstage pass that was my two minutes of fame.

To save all who have joined us recently, one of my most "metal moments" was being onstage with Iron Maiden during the Fear of the Dark tour. My college roomate was into college radio (where I hosted the campus "hour of power" show with the stage name of "leatherface" heh..brought in my own albums). We got free tix to go see Maiden outside of Detroit on this tour and, while walking around the ampitheater checking out the crowd, he bumps into an old friend who I didn't know. Turns out this guy graduated and was, then, working for Sony...Maiden's label at the time. Anyway, he was in the crowd looking for people to go out on stage with the band in a sort of orchestrated "fans rush the stage" sort of moment. He asks if we want to go and, leather-clad (and slightly drunk guido) wants to go! We were told to listen for a certain song (Clairvoiant, I believe) and meet so-and-so stage left. My buddy (poser, radio insider) didn't know the song but I got us to the place and time jumping all around decked out in leather coat, boots and chrome jewlery. Even was chastised by the guy who took us backstage beforehand. He actually asked if I could "maintain" for the few minutes they were asking of us.

Well, of course I said yes and we were slapped with these sticker-passes and it went like a whirlwind. In a couple of doors and out on the stage! While the rest of the 10 or so posers held back by the drumkit, I raced over to Bruce who was center stage. The look in his eyes said it all. Guido, crazed look in his eyes racing out onto the stage seemingly wanting to jump on his back. He actually hunkered down bracing for the blow! Heh... Nothing of the kind. I raced to his side, shouted at the audience who shouted back at me. Then we were ushered off. Lived off that little bit of fame for the rest of the night as people picked me out of the crowd (and signing at a record store afterwards) as "the guy onstage with Maiden!"

I am still looking for the bootleg of that night. Sadly, only guy who could verify the story was ONSTAGE with me (albeit by the drum kit...poser!). In retrospect, I should have looked for a guitar pic or hugged Bruce or something. Ah well. At least I now have the pass!

My most "metal moment" (until I met Priest last year at the meet and greet).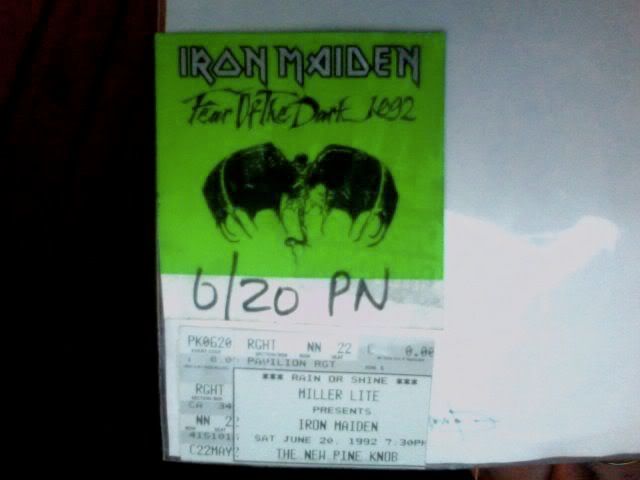 | | |
| --- | --- |
| [jaybone] Thursday, December 25, 2008 10:12:54 PM | |
I TAKE LIFE BY THE HORNS , AND STRIVE TO BE THE STRONGEST I CAN BE IN THE SHORT LIFE I HAVE .
| | |
| --- | --- |
| [hellion1969 [Banned]] Thursday, October 09, 2008 5:05:19 AM | |
| | |
| --- | --- |
| [Necroticist] Thursday, September 18, 2008 2:16:51 PM | |
been thinking on this fer a while - guess my most metal weekend was roadie job - no bands mentioned - thursday night til monday morning - no sleep - copious amounts of alcohol etc, got arrested and cautioned twice, 'spose waking up gaffa taped naked to a lamp-post was fun (we left some poor sod taped to a floor on the friday gig - never seen him since) - saturday was my sexual acheivement, cos i walked off with 5 ladies due to the band being 'well supplied'...yes i still walk funny - ya we had some fun - if anything else comes to mind - i may pass it on (memory/senility thing ;) )
| | |
| --- | --- |
| [Vaillant 3.0] Thursday, September 18, 2008 1:50:30 PM | |
Finally found a reason to keep my marker board... to write some inspiring words from the Metal Gods themselves...
:


| | |
| --- | --- |
| [SueVicious] Thursday, September 18, 2008 1:29:27 PM | |
Spent my economic stimulus check on a Priest VIP ticket this summer!
| | |
| --- | --- |
| [WhiskeyWoman] Thursday, September 18, 2008 12:53:59 PM | |
My husband & I were debating whether or not this was more 'mental' than 'metal' on our 22 hr. drive one-way from Canada to Vegas to see Priest for the third time in roughly a month... 5,266km's later (or 3,272 miles), and we made it back home with a flat tire, cool memories & "hot" fellow fans from the board we met who are now friends. ("Hi" ladies!)

Don't know how this story stacks up ... but when I first saw Priest in '82, I spent all summer making leather studded stuff ... which security promptly made me store in a plastic-bag during the concert because all five feet of me in studs posed such a threat to other fans 'on the floor' ... (Things that make you go "Hmmm...?" But not as bad as that poor guy in Korea who is rightfully pissed they can't stand up...)

Anyway, 20 years later my husband & I got to AC/DC at the same Pacific Coliseum in Vancouver as JP many years ago -- and they made me hand in my water-bottle! Geez...
So, I say "Boy, things sure have changed in 20 years when you guys made me hand in all my leather & studs at Judas Priest!"
Well, wouldn't you know it...? The older lady looks up at me, and says, "Hmm. I think I remember you...." (I guess it's a good part-time, evening gig for those who need extra cash and free entertainment). No word of a lie, my husband was standing right there!
Needless to say, I kind of apologized for how pissed off I might have been, not only when depositing my precious handiwork into a bag, but when picking it up and putting it all back on!

| | |
| --- | --- |
| [Steeler84] Saturday, August 30, 2008 6:54:51 AM | |
Puked in my bed and almost got my metal thing on my head.
| | |
| --- | --- |
| [jbarragan] Sunday, August 24, 2008 11:22:31 PM | |
I left my work left unattended, take a plane, camp for a day and spend a big money to see Maiden live in Bogota.
But it worth the effort.
| | |
| --- | --- |
| [spapad] Sunday, June 29, 2008 1:22:33 PM | |
Dont know if it is really metal or not but it was fun.
Jumping off the 3rd floor of a hotel balcony into the 4 foot end of a pool while attempting to catch a frisbee on the way down.
Results: Caught the frisbee, did not get hurt at all, and liked it so much I did I about 10 more times before the hotel manager came out and made us stop.

Of course, it was the eighties back then and there was not so much emphasis on saftey like there is today. Every pool had a spring board and you were actually allowed to dive into them!

My town probably has one of the last public pools with a high and low dive and you can actually dive if you want to!
| | |
| --- | --- |
| [Metal god/Electric eye! [Banned]] Sunday, June 29, 2008 12:41:17 PM | |
Karoke night : Living after Midnight :I'm Gone !!!!!!!!!!!
Edited at: Sunday, June 29, 2008 12:43:13 PM
Edited at: Sunday, June 29, 2008 12:44:23 PM
| | |
| --- | --- |
| [Metal god/Electric eye! [Banned]] Sunday, June 29, 2008 10:00:23 AM | |
U will see later