| | |
| --- | --- |
| [Bazookajoe_666] Tuesday, April 21, 2009 12:16:39 PM | |
God Seed Dvd In The Works

Video footage of GOD SEED (formerly known as the Gaahl-fronted of GORGOROTH) performing the song "Teeth Grinding" on July 25, 2008 at the Hortensfestivalen in Horten, Norway can be viewed below (clip shot by Harald Sleetrød). This track is a preview of footage that will be used on the forthcoming GOD SEED DVD, which is currently in the works.

GOD SEED's Gaahl (vocals) and King (bass) entered the studio on August 25, 2008 in the their hometown of Bergen, Norway to begin recording eight new tracks composed by the bassist for an as-yet-untitled new album, due later in the year via Indie Recordings. Along with Gaahl, King and Frost (SATYRICON) on drums, the band's full recording lineup includes Teloch (guitar) and Ice Dale (guitar). ENSLAVED's Herbrand Larsen once again produced the group in the studio.

In a recent interview with the Imhotep webzine, King stated about the band's name, "GOD SEED represent a more spiritual side to us than what GORGOROTH would. 'God Seed' is also the title of a track from our last album released under the 'GORGOROTH' banner and in that respect it symbolizes what is brought from the past. GOD SEED represents the will to grow; the will to be the super man so to speak. I think it's a suitable name for what we will represent in the future. I am also aware of the fact that we use the word God in the name. It will challenge the weak minded in the respect that we in the past used the word Satan a lot, but it's all about the same thing. The God within man and the God within nature. I never believed in a Christian force named Satan. I believe in the God within man."





Release Date for "Brütal Legend" Video Game
The Brütal Legend game — which features the voices of a number of metal superstars, including Rob Halford from JUDAS PRIEST, Lemmy Kilmister from MOTÖRHEAD and Ronnie James Dio from BLACK SABBATH — will be available for the Xbox 360 video game and entertainment system and the PlayStation computer entertainment system on October 13 in North America and on October 16 in Europe.

From the mind of Tim Schafer and Double Fine Productions, Brütal Legend is a third-person action game rich in combat, imagery and storytelling, delivering lighter-flicking fun sure to melt your face off.

Those ready to rock can start today by visiting the newly re-launched Brütal Legend web site (www.brutallegend.com), the best source online for all things Brütal Legend, from trailers to screenshots, concept art to exclusive blogs from the Double Fine studio team, epic polls and more! Over time, the site and its content will evolve and grow, so remember to check in whenever you feel the Metal Gods calling you. Sign up for exclusive updates through the Brütal Legend newsletter, or follow Brütal Legend on Twitter for intimate access and new information nearly every day.

Brütal Legend tells the tale of Eddie Riggs, played by Jack Black. The ultimate roadie, Eddie is the first person anyone calls when they need guitars tuned or stages rigged, and has a love for hot rods and a photographic memory for every heavy metal album cover, and the lyrics those albums contained. One night, a stage accident knocks Eddie unconscious, and he awakens in a world that looks very strange yet oddly familiar, a world where every heavy metal album cover and lyric Eddie knows has come to life, and where the evil emperor Doviculus and his demon army, The Tainted Coil, have enslaved the last remaining humans. When an oppressed people request Eddie's knowledge of modern warfare, he pulls from his own experience in the only occupation he's ever had, a roadie for a heavy metal band, and under his command, this barbaric force of hot-rods, Marshall stacks, leather, and chrome will bring this ancient world into the age of metal.


| | |
| --- | --- |
| [hellrider 31038] Sunday, April 19, 2009 2:32:54 PM | |
| | |
| --- | --- |
| [~ MG_Metalgoddess~] Saturday, April 18, 2009 7:07:39 PM | |
Chickenfoot has a myspace account too if anyone is interested Let me know I will try and post the link..
I like the music, I hope to see them if they tour..
[Show/Hide Quoted Message]
(Quoting Message by Bazooka Joe from Saturday, April 18, 2009 3:47:24 PM)
| | |
| --- | --- |
| [Bazookajoe_666] Saturday, April 18, 2009 3:47:24 PM | |
Joe Satriani Interview

Robert Gray of Ultimate-Guitar.com recently conducted an interview with guitarist Joe Satriani as part of a series entitled "Hit The Lights." Topics of discussion included CHICKENFOOT's formation, the group's debut album, "Soap On A Rope" and "Down the Drain", touring Europe, and the man's impending copyright case against COLDPLAY. Several excerpts from the interview follow below:

On how CHICKENFOOT came together:

"I've known Sammy (Hagar, ex-VAN HALEN vocalist) for quite a long time, and we live in the same area. For a short period, we were actually part of a group together called PLANET US. He called me roughly a year and a half ago, and asked me to join him onstage just for fun. We jammed at the end of one of his Las Vegas shows, and that was really the beginning of the CHICKENFOOT experience. Chad (Smith, RED HOT CHILI PEPPERS drummer), Mike (Michael Anthony, ex-VAN HALEN bassist) and myself all just thought we would jam, and have a good time, though it turned out to be profoundly good. We looked at each other onstage, and said, 'Wow, we should be a group. What will we do about that?' We took it from there. We promised each other that we should write some tracks, should get together, and should see if we could take things towards the next step. For roughly nine months, we pursued this here and there, but then we finally put our feet down, and said, 'OK, let's enter the studio, and pursue this for real.'"

On CHICKENFOOT's name:

"I think it was just a goofy code name. We had to call ourselves something, and thought about possible names in the meantime. We thought of clever names, though I never thought any name was as good as CHICKENFOOT. (laughs) CHICKENFOOT is just a name which is so eerie, yet at the same time, is perfect. I wasn't surprised when the public overwhelmed us somewhat by just constantly referring to us as CHICKENFOOT. The name just stuck, I guess."

On whether a music video will be recorded for CHICKENFOOT's debut album:

"We have to film some videos. I've noticed that in my schedule, a video shoot will occur during May. I don't know which track that music video will be filmed for, though such things have to be put into place. 'Chickenfoot' will generate a couple of tracks worth of videos."

On whether a second CHICKENFOOT album will be recorded:

"I really hope so — I could see CHICKENFOOT recording three to four albums."

On where his copyright case against COLDPLAY is currently at:

"Our respective lawyers are talking to one other, and trading papers. There's much protocol which needs to be followed. These types of cases tend to drag on, and with very little interesting news for months and months (laughs). None of us are meant to discuss any of the really interesting aspects, so all I can say is that the case is still ongoing."

On COLDPLAY winning a Grammy for "Viva la Vida":

"I'm happy for the group, and in a very weird way, I was happy to hear my melody being celebrated. However, I was slightly confused that NARAS (National Academy of Recording Arts & Sciences, Inc.), the organisation which handles the Grammy Awards, would even consider nominating a track which they knew was heavily contested. These are the people who voted for MILLI VANILLI, though it isn't really their job, I suppose."

Read the entire interview at Ultimate-Guitar.com.

COLDPLAY vs. Joe Satriani:

http://www.youtube.com/watch?v=fxSIAXGakuk&eurl=http%3A%2F%2Fwww%2Eroadrunnerrecords%2Ecom%2Fblabbermouth%2Enet%2F&feature=player_embedded

http://www.youtube.com/watch?v=De3lvudmOAw&eurl=http%3A%2F%2Fwww%2Eroadrunnerrecords%2Ecom%2Fblabbermouth%2Enet%2F&feature=player_embedded


| | |
| --- | --- |
| [Painkiller87] Friday, April 17, 2009 9:01:24 PM | |
MORE of a Retro look?


JUDAS PRIEST 'Going Retro With The Look Of The Band' On 'British Steel' Anniversary Tour - Apr. 17, 2009

British heavy metal legends

JUDAS PRIEST
will celebrate the 30th anniversary of their classic album
"British Steel"
this summer (it was originally issued in April 1980) by performing the LP in its entirety for the very first time ever live on stage! In addition they will be playing some old favorites. Vocalist
Rob Halford
told
Noisecreep
, "It's like suddenly, thirty years have come upon us and we're about to celebrate. The album's technical anniversary is April of next year, but want to start the party early."
Halford
added, "In today's economy, all artists have to think of something to do differently. We decided that this would be a great opportunity to do something that
PRIEST
has never done before, which is to play an album in its entirety. The band and the name '
JUDAS PRIEST
' have both been around since 1969, so it is our fortieth anniversary, too. We seem to be in a constant celebration mode!"
According to
Halford
,
PRIEST
will make the tour a full sensory experience by recreating the "look" from the era during which they recorded the album. "We're going retro with the look of the band,"
Halford
told
Noisecreep
. "In the tradition of
PRIEST
, we were often credited with kicking off the denim, leather, studs, whips and chains look, and there is a rich heritage with that. We want to bring that back with the stage set and other surprises."
Along with 1982's
"Screaming for Vengeance"
and 1990's
"Painkiller"
,
"British Steel"
has long been considered one of metal's all-time classics. It was with this release that
PRIEST
truly broke through to the masses, with a pair of tracks that have become fixtures on rock radio — the enduring anthems
"Breaking the Law"
and
"Living After Midnight"
. But like all classic albums, there is not a single weak track detected on
"British Steel"
, as evidenced by such standouts as the perennial concert highlight,
"Metal Gods"
, as well as
"Rapid Fire"
,
"Grinder"
,
"United"
and
"The Rage"
, among others.
Produced by
Tom Allom
,
"British Steel"
was recorded at the Tittenhurst Park in England — which is a mansion owned at the time by former
THE BEATLES
member
Ringo Starr
, and previously owned by
John Lennon
and
Yoko Ono
. In 2001, the album was remastered and reissued with extra bonus tracks, and also was the subject of an in-depth study as part of the popular
"Classic Albums"
DVD series.
"British Steel"
original track listing:
01.
Rapid Fire
02.
Metal Gods
03.
Breaking the Law
04.
Grinder
05.
United
06.
You Don't Have to Be Old to Be Wise
07.
Living After Midnight
08.
The Rage
09.
Steeler
JUDAS PRIEST
— singer
Rob Halford
, guitarists
Glenn Tipton
and
K.K. Downing
, bassist
Ian Hill
, and drummer
Scott Travis
— remain as popular as ever to this day, confirmed once and for all upon the release of 2008's
"Nostradamus"
, which became their highest-ever charting album in the U.S. Two years earlier, the group was the inaugural inductees into the
"VH1 Rock Honors"
. The forthcoming summer dates with
WHITESNAKE
are surely not to be missed by metalheads from coast to coast, especially now that fans will be reintroduced up close and personal to the mighty
"British Steel"
.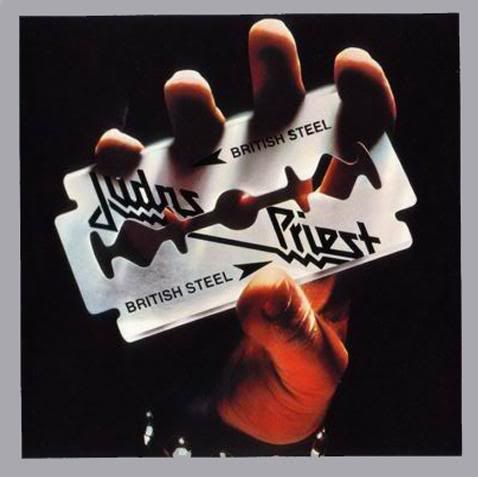 | | |
| --- | --- |
| [Bazookajoe_666] Thursday, April 16, 2009 10:41:09 AM | |
Megadeth Update
MEGADETH
mainman
Dave Mustaine
has issued the following update:
"This week has been fantastic! [Producer]
Andy Sneap
is back at the helm in
Vic's Garage
[
MEGADETH
's recording studio in San Marcos, California] and it is such a natural thing to see
Andy
here with me, that I am thinking of trying to find him an American supermodel that will marry him and spend the rest of their lives in San Diego make records for me and making whoppee for Android!
"Seriously, though, I love working with
Andy
. I have had some greats over the years, and
Andy
is one of them. We have been making some serious soulful and aggressive vocal performances.
"Now, let me tell you about
Chris Broderick
's [
MEGADETH
guitarist] soloing!
"This guy is like
Tony Montana
. I have never ever heard a guitar player this good. Sorry,
Marty
[
Friedman
, ex-
MEGADETH
guitarist], I try to keep you in the fans' memory, but they are going to have a hard time once they hear
Chris
. I mean, we all worked hard to get
Chris
to where he is right now, but nothing that I could have done, and I mean very little, if not zero was contributed by me.
Chris
is a genius, a virtuoso, a master, and I am the proudest I have ever been in my musical life right now.
"Even
Justis
[
Dave
's son] said, 'He stomps
Marty Friedman
, dad.' What a blessing to have such a cool son!!!
"I have to get going. I have a crazy day today again. I need to finish the song I was singing yesterday called
'This Day We Fight'
. This was influenced by the
'Lord of the Rings'
. I am also in the middle of finishing up a lyric this morning called tentatively,
'How The Movie Ends'
. We'll see if the title sticks by the time the disc is finished."
MEGADETH
's new album is tentatively due in September via
Roadrunner Records
.
Mustaine
revealed during a
recent interview
that
MEGADETH
is in talks to play some shows with
SLAYER
later in the year. No further details are currently available.
Immortal Begin Recording New Album
Norwegian black metallers
IMMORTAL
have commenced recording their new album. According to the band's management, "They will be working in both
Grieghallen
[Norway] and
Abyss
[Sweden] studios this time."
IMMORTAL
guitarist
Demonaz
was interviewed last year by
Andrew Haug
of
Triple J
's
"Full Metal Racket"
(based in Australia). Download the 10-minute audio file in MP3 format at
this location
(4 MB).
| | |
| --- | --- |
| [Bazookajoe_666] Wednesday, April 15, 2009 12:28:08 PM | |
Geezer Butler Comments On New Heaven & Hell Cd

HEAVEN & HELL/BLACK SABBATH bassist Geezer Butler has told Decibel magazine that working with singer Ronnie James Dio is a hell of a lot easier than working with Ozzy Osbourne. "Ronnie's a songwriter in his own right — he's got tons of ideas," the bassist said. "Whereas Ozzy... in the old days, he'd come up with a vocal line and I'd write the lyrics. Ronnie is 100 percent involved in both the musical side and the vocal side, and he writes his own lyrics as well."

Ozzy never took Butler's musical ideas seriously, either. "If we were with Ozzy and I came in with the killer riff of all time, Ozzy wouldn't even think of doing it because I'm not the guitarist and that's the way he thinks," Butler said. "When we tried to do a SABBATH album in 2001, we all gave each other CDs of our riffs or song ideas. Ozzy didn't even listen to mine. Because I'm not a guitarist, he felt I shouldn't be playing guitar. That's why it was so bloody hard to write anything."

Geezer Butler on HEAVEN & HELL's debut CD, "The Devil You Know": "If we'd written this album with Ozzy, we'd still be working on the first track."

The contrast between Ozzy and Dio comes into even sharper focus on tour. "It was great being with Ozzy on the road," HEAVEN & HELL/BLACK SABBATH guitarist Tony Iommi enthuses. "We had a great time and we still will have hopefully at some point, but with Ronnie it's a lot different, because we go out and we know exactly what we're gonna be doing. With Ozzy, we didn't really know. It was touch and go sometimes on some of those early shows, whether he was gonna turn up, if he'd be able to sing, if his voice was gone, or what. We'd have to cancel shows, which Geezer and myself really hated. But with Ronnie, we've never cancelled a show. He'd have to be seriously, seriously ill before we cancelled a show."

Read the entire interview in the May 2009 issue of Decibel magazine, available on newsstands now.

For more information, visit DecibelMagazine.com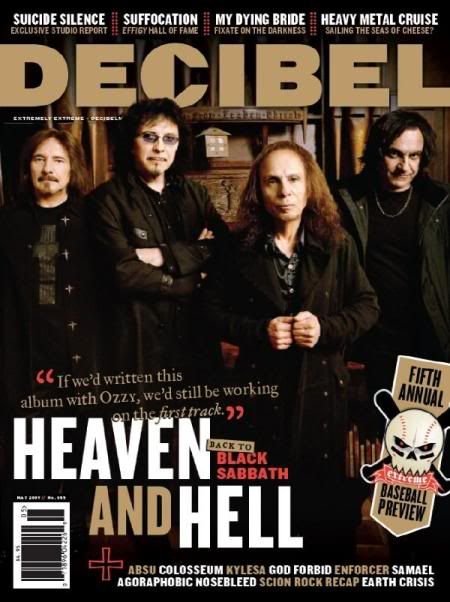 | | |
| --- | --- |
| [Bazookajoe_666] Wednesday, April 15, 2009 12:20:51 PM | |
Flight 666 Release Details

"Iron Maiden: Flight 666", the feature-length documentary film which follows the IRON MAIDEN bandmembers on the first leg of their "Somewhere Back In Time World Tour" in February and March of 2008, will be released on extended Blu-ray and DVD formats, alongside a double-CD soundtrack album and limited edition double-vinyl picture disc. It will be available Monday, May 25 on EMI Records in Europe, and Tuesday, June 9 on EMI Records Canada and UMe in the USA.

For "Iron Maiden: Flight 666", IRON MAIDEN was accompanied everywhere by award-winning documentary makers Banger Productions from Toronto in Canada, who have received international critical acclaim for their previous movies "Metal: A Headbanger's Journey" and recently "Global Metal". Producer/presenter Sam Dunn and his team bring an intimate, behind-the-scenes view of this remarkable journey, with a close look at the logistics involved and following Team Maiden in the cockpit, on the plane and on and offstage, getting to the heart of this global adventure of a band that has very rarely even let cameras backstage before.

Shot in high definition and with superb 5.1 surround sound, mixed by the band's producer Kevin "Caveman" Shirley, "Flight 666" brings to the screen all the drama, excitement and hysteria that followed the band around the world every time Ed Force One (the band's plane) touched down in a new country. The film documents the intensity of the punishing show schedules, the struggle with the time zones, the pressures of ensuring that every performance matched the energy of the many thousands of ecstatic and expectant fans from many cultural backgrounds, unusual angles from the spectacular shows... and, of course, the fun had on the way!

A special international "Iron Maiden Day" is being planned for April 21 with simultaneous showings of "Iron Maiden: Flight 666" in selected digital cinemas around the world.

As a very special bonus for the fans, MAIDEN has included a second disc of the entire set from the 2008 segment of this tour with the DVD (and as a long-play Blu-ray). Sixteen songs from sixteen different cities in eleven countries around the world, for the first time ever encompassing such varied places and cultures in one concert. (See full track listing below). In addition to a standard double DVD, EMI will release a special souvenir limited-edition deluxe DVD with 30-page booklet. The soundtrack audio version of the live show will be available on two CDs, as a limited-edition vinyl set with two picture discs, and a digital download especially for those fans who do not have DVD access or just want to enjoy the show as a great live album. All are lavishly packaged as an ultimate memento of a tour to remember!

To recognize the global phenomenon of MAIDEN, the Blu-ray/DVD are also subtitled in Hindi, Japanese, Dutch, German, Spanish, Brazilian, French, Italian, Portuguese and Swedish.

Comments band manager Rod Smallwood; "It's been a mammoth undertaking. From the first twinkle in Bruce's eye it's taken about three years to put band, crew and equipment in a giant flying 'splitter bus', to go through all the long and tiresome prep and safety regulations and planning, to the actual filming and of the tour itself, through to post production and right up to putting together all these items in the very best quality possible for our fans."

"It's great that with Maiden Day on Tuesday April 21, we can give our fans the opportunity of seeing this digitally on big screen in Hi Def with the full-on 5.1 sound experience with other fans around them. It was also very rewarding that it has won the prestigious SXSW Film Festival Award for Best Music Documentary.

"The 'Somewhere Back in Time Tour' reached almost 2 million fans in 39 countries and, if there is one thing l know from managing MAIDEN all these years, it's that our fans are not happy to wait too long, so we are delighted that EMI (Ume USA) are rush-releasing the DVD. This closes the chapter on an absolutely brilliant experience delving into the past for the band, myself and my team, the crew and hopefully all of you fans out there. After the summer and some deserved time off, we will concentrate on the 'new,' with the band starting to put together material for a brand new studio album due sometime later in 2010. And, of course, after that we will look forward to seeing all our fans again!!"

The film "Flight 666" is being released in the following manner:

* Long-play Blu-ray with "Flight 666: The Film" and "Flight 666: The Concert" (215 minutes)

* Double DVD

- Disc One: "Flight 666: The Film" (112 minutes)
- Disc Two: "Flight 666: The Concert" (104 minutes)

* Plus limited-edition deluxe double DVD of the above with special packaging and 30-page booklet

* "Flight 666: The Original Soundtrack" album - Double CD*

* "Flight 666: The Original Soundtrack" album - Limited Edition Double Vinyl Picture Disc

Full track listing for the bonus concert footage on DVD and Blu-ray, plus the double Live Soundtrack CD

CD 1:

01. Aces High
Bandra Kurla Complex/Mumbai, India
February 1, 2008
02. 2 Minutes To Midnight
Rod Laver Arena/Melbourne, Australia
February 7, 2008
03. Revelations
Acer Arena/Sydney, Australia
February 9, 2008
04. The Trooper
Makuhari Messe/Tokyo, Japan
February 16, 2008
05. Wasted Years
Arena Monterrey/Monterrey, Mexico
February 22, 2008
06. The Number Of The Beast
The Forum/Los Angeles, USA
February 19, 2008
07. Can I Play With Madness
Foro Sol/Mexico City, Mexico
February 24, 2008
08. Rime Of The Ancient Mariner
Izod Center/New Jersey, USA
March 14, 2008

CD 2:

01. Powerslave
Saprissa Stadium/San Jose, Costa Rica
February 26, 2008
02. Heaven Can Wait
Palmeiras Stadium/Sao Paulo, Brazil
March 2, 2008
03. Run To The Hills
Simon Bolivar Park/Bogota, Colombia
February 28, 2008
04. Fear Of The Dark
Ferrocarril Oeste Stadium/Buenos Aires, Argentina
March 7, 2008
05. Iron Maiden
Pista Atletica/Santiago, Chile
March 9, 2008
06. Moonchild
Coliseo de Puerto Rico/San Juan, Puerto Rico
March 12, 2008
07. The Clairvoyant
Pedreira Paulo Leminski/Curitiba, Brazil
March 4, 2008
08. Hallowed Be Thy Name
Air Canada Centre/Toronto, Canada
March 16, 2008


| | |
| --- | --- |
| [Bazookajoe_666] Friday, April 10, 2009 10:08:16 PM | |
Bruce Dickinson Talks About Performing
Sophie Heawood
of U.K.'s
Times Online
reports: What dawns on you, while watching
IRON MAIDEN
's live show, with its bombast and pyramids and 20ft robots, is how curiously lacking in aggression it is. Passion, yes, but it's not a fight. (A roadie tells me that he's been working for
MAIDEN
for 30 years and has never seen a punch-up.) Singer
Bruce Dickinson
agrees. "Oh no, it's not fighting. It's not a big f***-you at all. That's a pointless waste of energy. There is the potential on the one hand for rage and chaos, or passion and exultation on the other — and that's my choice: to try to levitate all these people who have come along. And I don't do it — they do it themselves — but you have to sort of provide the framework."
He says that he began performing in small clubs, and learnt from one of his childhood heroes,
Ian Gillan
, the
DEEP PURPLE
singer, how to bring your audience in. "I said to him one night, 'What's your secret?' And he said, 'Always look 'em in the eyes.' I thought, OK, I'll try it — but how far can I actually see? And I discovered it was entirely possible to look right the way to the back of a show and see somebody. I thought, well, if you grab that person, then everybody around them suddenly goes 'Wow' and you energize that whole area suddenly. I started working that — in the end you can do it in stadiums."
Read the entire report from
Times Online
.
Canadian metal legends
VOIVOD
have set set
"Infini"
as the title of their final album, due in North America on June 16 via
The End Records
and Germany on June 12 through
Nuclear Blast
(the rest of Europe is expected to receive the CD on June 15).
Regarding the album title,
VOIVOD
drummer
Michel "Away" Langevin
said, "There were many titles thrown around, but I thought of
'Infini'
and everybody liked it. Also, it looks great in sci-fi fonts."
The track listing for the CD is as follows:
01.
God Phones
02.
From The Cave
03.
Earthache
04.
Global Warning
05.
A Room With A View
06.
Destroy After Reading
07.
Treasure Chase
08.
Krap Radio
09.
In Orbit
10.
Deathproof
11.
Pyramidome
12.
Morpheus
13.
Volcano
Total running time: 57:57
The follow-up to 2006's
"Katorz"
will mark the second album in the band's 20-plus-year career that did not feature founding guitarist
Denis "Piggy" D'Amour
working alongside his bandmembers in the studio.
"Infini"
will also mark the first
VOIVOD
album to feature
Jean-Yves "Blacky" Thériault
on bass since 1991's
"Angel Rat"
and their first release with
D'Amour
's replacement
Dan Mongrain
on guitar.
VOIVOD
made its trimphant return to the stage on June 22, 2008 in front of 22,500 fans as part of the
Heavy MTL
festival at Parc Jean-Drapeau in Montreal, Quebec, Canada. The group was joined by original bass player
Jean-Yves Theriault
(
"Blacky"
) for the first time in 17 years.
Dan Mongrain
from the Quebec band
MARTYR
, a good friend of the band, played guitar. Songs from the early catalogue were the focus for the
Heavy MTL
set, including
VOIVOD
's cover of the
PINK FLOYD
classic
"Astronomy Domine"
, which closed the show before the band took a bow center stage and shared a group hug.
Released in July 2006 on
The End Records
,
"Katorz"
was assembled, recorded and released by the band (drummer
Michel "Away" Langevin
, singer
Denis "Snake" Belanger
and former
METALLICA
bassist
Jason "Jasonic" Newsted
) and producer
Glen Robinson
using demos left by founding guitarist
Denis "Piggy" D'Amour
, who succumbed to colon cancer in August 2005. The CD has sold more than 10,000 copies in the United States, according to
Nielsen SoundScan
.
VOIVOD
won the "Best Metal/Hardcore Album" award for
"Katorz"
in September 2007 at the annual
Quebec Independent Music Awards
(
GAMIQ
) in Montreal, Quebec.
Newsted
is still very much part of the
VOIVOD
family and did work with the band on the new record along with
Jean-Yves Theriault
and
Eric Forrest
. However,
Newsted
is unable to perform live at this point.
VOIVOD
2008:
Professionally filmed video footage of
VOIVOD
performing the song
"Voivod"
on September 20, 2008 at Club Citta in Kawasaki, Japan can be viewed below. The band was in Japan taking part in the two-night
Thrash Domination 2008
event alongside
TESTAMENT
and
FORBIDDEN
.
http://www.youtube.com/watch?v=EXY0-6LjqOY&eurl=http%3A%2F%2Fwww%2Eroadrunnerrecords%2Ecom%2Fblabbermouth%2Enet%2F&feature=player_embedded
MetalUniverse.net
posted a video clip of
VOIVOD
performing the song
"Nothingface"
at the
Trois Rivières Metalfest
, which was held November 7-8, 2008 at the Bâtisse Industrielle in Trois-Rivières, Quebec, Canada. Watch the footage below.
http://www.youtube.com/watch?v=vAx4o4mugT0&eurl=http%3A%2F%2Fwww%2Eroadrunnerrecords%2Ecom%2Fblabbermouth%2Enet%2F&feature=player_embedded
| | |
| --- | --- |
| [Bazookajoe_666] Friday, April 10, 2009 4:22:48 PM | |
Geoff Tate Interview

FuryRocks recently conducted an interview with QUEENSRŸCHE frontman Geoff Tate. An excerpt from the chat follows below.

FuryRocks: Can you tell us a little about Mike Stone's [guitar] departure?

Tate: When Chris DeGarmo, one of our founding members left in 1997, we decided to carry on with the second guitar position open and play with different people. It worked out really well for us, to play with people who bring a different perspective. It helps us to pull from different musical pallets. Mike is an amazing guitarist, writer, and vocalist. He had a real passion for pursing his own goals and starts his own band. He was also a great person to hang with. It's one thing to be a great musician who does the job well but it's important to have someone in the band who you want to spend time with. We are going to miss him and wish him the best of luck in his new project and future endeavors.

FuryRocks: Was it difficult to carry on when Chris left the band?

Tate: After Chris left, there were a few albums that we were really trying to find our legs. Chris was a major component to the band, he was the "go-to guy." He knew all the business of the band; he had the relationships with the record companies and management and was a major creative influence of the band. When he left, we struggled, we didn't know how we could carry on since he did so much and we had become accustom to the working situation. We had to reassign all the duties that Chris took care of to the rest of the band (laughing). We had to find where our strengths were and that took a while.

FuryRocks: What do you attribute the success and longevity of QUEENSRŸCHE to?

Tate: Tenacity (laughing). All of us have a passion for music which is what drew us together. We all have vast record collections and all like different styles of music which has been beneficial to us in the sense it has kept thing interesting from a creative standpoint. When you have that shared passion, it's easy to work together. You don't have to work that hard to manufacture things, because it's already there, you just have to let it happen. It's a magical combination that we all appreciate and are grateful for. We also find that life is pretty inspirational. You get to travel and meet people who provide us with so much input; there is never a dull moment and never a lack of material to write about. We meet so many people all the time and have interesting conversations that we can pull from to write a song or an album. Also, the fact is that we change our albums up quite a bit. Our fans never know what type of record we will put out and I think they find that interesting. They have watched the band evolve and change.

Read the entire interview from FuryRocks.


Slayer Members Comment On Albums

Sam Roudman of Filter magazine recently spoke to the four members of SLAYER for a lengthy interview which appears in its issue #35. An excerpt from the article on the "Reign In Blood" / "South Of Heaven" / "Seasons In The Abyss" years follows below.

"Reign in Blood":

Tom Araya (bass, vocals): On that first album [together], [producer Rick] Rubin made sure that he recorded. He wanted to duplicate what he was hearing.

Kerry King (guitar): It was the first time you actually heard SLAYER in its pure ferocity, and it made a big difference. One funny thing about that album is if it came out today, no one would give a shit. They'd say, "That's cool." But at the time it came out it made such a difference. People still reflect on that as a poignant time, where shit changed.

Jeff Hanneman (guitar): "Angel of Death" was a big problem. I remember getting a phone call after the album was done: Sony wasn't going to release it. I remember being at home, pissed, throwing things. What the fuck? I didn't think anything was wrong with "Angel of Death" or anything else we did, it's a documentary! There's no "Heil Hitler," or "white people rule," it's a documentary; grow up, people. It took months before they picked it up again. Finally, we got signed by a distributor.

"South of Heaven" / "Seasons in the Abyss":

Dave Lombardo (drums): I think "Heaven" is more slowed-down. "Reign in Blood" was played very fast, but that's the picture of that album. "South of Heaven" is just a whole different record; it has more color to it.

Tom Araya: We purposefully didn't want to do another fast album. But there are a lot of people now that say ["South of Heaven" is] an underrated record.

Kerry King: My problem with the record is that I never thought Tom should have sung as much as he did. That's not his fault; we all came to that decision. But looking back, after "South of Heaven", that's what I said going into "Seasons" — "I don't care if you got the melody, but you can't lose that ferocity in your voice…" There wasn't enough anger in the presentation. I think we combined the two with "Seasons"; like, "That's where it needed to be, that is the imprint of SLAYER from now, so it is written, so it is done!" [Laughs]

In the late '80s, with "Reign" and "South", and by the time we had "Seasons" happening, there were tons of bands doing it. It's like a recurring cycle; when something gets popular, record companies sign anything that sounds remotely like 'em, and it kills the genre.

Read more from www.filter-mag.com.
| | |
| --- | --- |
| [kiamat] Thursday, April 09, 2009 10:37:22 AM | |
Nicko talks to fans on Rockline USA


Nicko will be the featured guest on the nationally-syndicated radio show Rockline with host Bob Coburn on Wednesday April 15, 2009 at 8:30pm PT / 11:30pm ET.

Fans are encouraged to speak with Nicko by calling 1-800-344-ROCK (7625).

For a station near you and for information on how to listen on the Internet, go to www.RocklineRadio.com

This broadcast will be available for two weeks on the Rockline website beginning the day following the show.

Nicko will be talking directly to fans and answering their questions and giving everyone the inside story to Maiden's latest tour and their movie Flight 666 amongst other topics. With Nicko, you never know!!
| | |
| --- | --- |
| [Bazookajoe_666] Wednesday, April 08, 2009 6:27:40 PM | |
Ronnie James Dio Writing Autobiography

According to U.K.'s Classic Rock magazine, legendary heavy metal vocalist Ronnie James Dio (HEAVEN & HELL, BLACK SABBATH, RAINBOW, DIO) has begun writing his autobiography. It will "not be centered around myself so much as me telling my life story through the stories of those around me," he is quoted as saying.

Dio explained that he's fitting the writing around a hectic schedule with HEAVEN & HELL, which is scheduled to release its debut album, "The Devil You Know", later this month.

"Every time I feel I'm getting halfway there, another halfway comes along," he said. "But yes, I'm writing it and it's certainly going to be very, very interesting for people interested in the bands I've been in and the people I've played with.

"You have to have a focal point, and I guess that had to be me. It's an autobiography, but within it, I tell the stories that somehow explain a little bit what [former RAINBOW mastermind] Ritchie [Blackmore]'s like or [BLACK SABBATH's] Tony [Iommi]'s like or Geezer [Butler]'s like. I don't analyze them, but just in telling the tales I paint everyone in as good a light as possible. It's not a tell-all book."

According to Dio, anyone expecting to read about on-the-road debauchery and excesses will be disappointed. "I've tried to live my life on a very straight path,' he told Classic Rock. "I'm not Nikki Sixx [MÖTLEY CRÜE] or people who go over the edge. That's alluring to a lot of people, but I'm sure being a little bit different is alluring to some other people, too."

The as-yet-untitled book is tentatively due next year.


| | |
| --- | --- |
| [J.D. DIAMOND] Wednesday, April 08, 2009 5:16:54 PM | |
Thats pretty funny,I read this as well. Infernus should obviously have the name,(duh)...how could Gaahl possibly think that he would get Gorgoroth's name? Stupid.No worries for me,I only like Gorgoroth's first album "Pentagram" 1994 anyways!! But hail to Infernus none the less!
[Show/Hide Quoted Message] (Quoting Message by Bazooka Joe from Tuesday, April 07, 2009 12:18:46 PM)
| | |
| --- | --- |
| [Bazookajoe_666] Tuesday, April 07, 2009 12:18:46 PM | |
Gorgoroth Band & Name Owned By Guitarist Infernos Now

GORGOROTH mastermind/guitarist Infernus (real name: Roger Tiegs) was interviewed late last week by Justin M. Norton of About.com. Infernus discussed his legal battle, the status of GORGOROTH's upcoming album and his thoughts about former bandmates Gaahl and King. Excerpts follow:

About.com: Do you feel vindicated by the decision?

Infernus: I am always more or less angry at someone or something: fellow co-workers, politics at practice here in Norway, the law system, God, and even a few ex-members now and then. But concerning the outcome of this case, which I won, I am of course happy. I am not really surprised about it, but I am content and happy.

This is not just a victory for common sense and reason, nor is it only a victory for me and my band. It is a victory for the music scene. This will set a standard in terms of legal issues in Norway, at least, so that musicians and artists who come up with a concept of their own can focus on what should be their main concern: the creative aspect of their life. People can feel safe not having to do tons of paperwork to be able to protect their ideas and immaterial belongings in case of future issues where, as in this case, there might come some seventh bass player and try to claim the name of a band he had no part in creating.

About.com: Did you ever consider abandoning the case and playing music under another name?

Infernus: Running a court case always represents some kind of a risk. I was not 100 percent sure I would win I have to admit, even though I knew I was right. I allied myself with some rather strong forces working in the same direction, so the outcome was more or less clear. I have problems understanding that the counterparts (King and Gaahl) might honestly have believed they could win a case like this, and it is still a mystery for me why they would not accept my offer not to take them to court. They should just have quit and found themselves another name and started their own band. But they had to do it the hard way, and we all know the outcome of that by now.

About.com: What is next for GORGOROTH now that the court case has passed? Will you finish up "Quantos Possunt ad Satanitatem Trahunt" and begin touring?

Infernus: I have been in studio rehearsing/arranging/doing pre-recordings for this album for more or less a year now. We are using the studio of my new drummer and co-producer Tomas Asklund in Sweden, Monolith Studio. We will work pretty effectively in the upcoming period to (finish) rehearsals for future live activities as well, when all the guys are here doing their part of the recording. We are looking at a mix in the end of June, then mastering in July. There will be an October release on Regain Records, the label I chose for GORGOROTH back in 2005, before the legal issues came up.

About.com: What will the new music sound like? Can we expect something in the vein of "Under The Sign of Hell" with Pest and Tormentor back in the band? You now have close to what many consider the classic GORGOROTH lineup back in place.

Infernus: I would like the listener to decide what it sounds like. It never, in my eyes, looks especially good having a musician or songwriter going on in an interview pestering people with his or her own personal opinions on topics like this. I can say we are working hard on it and are going to be able to stand behind this product upon release around October this year. It is time for some real metal.

Read the entire interview at About.com.

| | |
| --- | --- |
| [Bazookajoe_666] Tuesday, April 07, 2009 12:17:07 PM | |
The Birth of Slayer

Sam Roudman of Filter magazine recently spoke to the four members of SLAYER for a lengthy interview which appears in its issue #35. An excerpt from the article on the band's formative years follows below.

Tom Araya (bass, vocals): "This Top 40 band I was in was getting a new guitar player — a music teacher who Kerry [King, guitar] was a student of. When that guitar player got booted and was replaced by Kerry, then I got booted. That was right out of high school, in '79. I was working at the hospital and going to school to become a respiratory therapist. I got in contact with Kerry like a year later; he said he wanted to put a new band together."

Jeff Hanneman (guitar): "In '81, we started playing covers, and then I got into punk and that changed my perspective. I don't remember the specific bands because they were just backyard bands at parties, but it was just the speed and anger of punk… I don't know how to describe it. I don't write music; I don't read notes. [The punks] played dark riffs — whereas metal was more melodic, there were heavy riffs, heavy chord patterns; but punk was just…angry. It was fast, and right then and there I thought, 'Fuck listening to metal, this stuff is more interesting, it's more energetic.'"

Dave Lombardo (drums): "In the early days, the greatest thing we came across was mixing metal and punk together to create the SLAYER style. We were being influenced by bands like IRON MAIDEN, VENOM, MERCYFUL FATE and a lot of punk stuff, so it all grew from what we were being exposed to at the time."

Kerry King: "We were from L.A., and everybody said the Bay Area was where all the thrash was. We never understood the L.A. thing; why guys wanted to dress like girls, and why girls liked that — POISON, RATT, L.A. GUNS. We didn't get it. And so us dressing up in leather and spikes and chains and nails and Alice Cooper makeup for the first record was our way of rebelling and being the anti-L.A. Their subject matter was so safe; that might be part of what pushed us over the edge to be the opposite."

Hanneman: "My dad was in World War II and my two older brothers were in Vietnam, and when I was young I would hear them talk about all that stuff. Even though they weren't sitting around telling war stories, it would spill into conversation, which made it darker for me. If they were bragging about how many people they killed it probably wouldn't have been as interesting, but they were trying to keep it from the rest of the family and so I started to get into it. It was just a natural thing to write about.

"Not too long after the band started, my dad was cleaning out his closet and he had a bunch of medals he had taken off of dead Nazis, and he goes, 'You can have these; I was just going to throw them out.' I started to research what these medals meant, and it just snowballed. In a way, it actually helped SLAYER out; it started a controversy because everybody thought we were Nazis. Anybody who knew us knew we weren't, so we played along with it a little bit."

Read more from www.filter-mag.com.


| | |
| --- | --- |
| [Bazookajoe_666] Tuesday, April 07, 2009 12:03:06 PM | |
Bruce Dickinson Talks About Flight 666

U.K.'s Metal Hammer magazine recently conducted an interview with IRON MAIDEN singer Bruce Dickinson about "Iron Maiden: Flight 666", the feature-length documentary film which follows the IRON MAIDEN bandmembers on the first leg of their "Somewhere Back In Time World Tour" in February and March of 2008. An excerpt from the chat follows below.

Metal Hammer: Film…tour documentaries are small, fan-based kind of thing…but the scale of this thing, it's a completely different beast…was that the intention?

Bruce: I don't know what it was intended to be because the…all we did was be in it.

Metal Hammer: No reservations about the movie?

Bruce: I probably had less than the other guys because I'm used to doing lots of interviews and things like that. Adrian [Smith, guitar] was a little wary but I think he kind of warmed to them because they were nice guys and they did just join in and became part of the crew. So, just as if somebody… we're all arsing around dressed as transvestite Scotsmen wearing Ken Dodd wigs and some of the crew got out their mobiles and started taking pictures, you don't say, "No pictures!" because they're your mates and everyone's having a laugh, so it was actually the same with the documentary crew, which could've been a dangerous thing if they'd decided to fuck us over…but it was their impressions telling the story.

Metal Hammer: The story of the movie is about the fans and their connection with the band, right?

Bruce: I think that is, by and large, the real story of MAIDEN. None of us go around courting celebrity for the sake of it. It is frankly, occasionally useful as a device to get attention for the band but it's only ever used very, very sparingly, even then. So really the story is about the band and the fans, because that's what's created everything. All the media that's been focused on MAIDEN over the last few years would be utterly meaningless if it wasn't for the fans responding to it.

Bruce on the live footage: "Well, they filmed enough of it! What's great is that they just used excerpts. I think there's an amazing atmosphere, and a fucking amazing live DVD that could come out of it. We never allowed anybody… I'm renowned for almost Ritchie Blackmore-esque hatred for cameramen on stage because I find it a real intrusion and you get locked into this fantasy world of music and visions and you're in the middle of being the Ancient Mariner and this fucking bloke's sticking his camera in your face and you just want to deck him. It's like, 'Get out of my dream!' So you really have to know somebody quite well to trust them. If I see McMurtrie's head sticking up above the parapet, I don't throw anything at it these days, but if I didn't know he was I'd murder him! So you really have to trust people who get up on stage with you because it's our little world."

Read more from Metal Hammer.


| | |
| --- | --- |
| [Bazookajoe_666] Monday, April 06, 2009 10:50:11 AM | |
Venom To Re-Issue "Black Metal + Live DVD"

British black metal pioneers VENOM are planning to release a special edition version of their "Black Metal" album later this year. According to the band, the new set will contain bonus tracks and a DVD of the "7th Date of Hell" video of VENOM performing live at the Hammersmith Odeon in London, England in 1984.

On October 22, 2008, a two-album Japan-only cardboard sleeve reissue series from VENOM was made available via Universal Music featuring the following LPs:

* "Welcome To Hell" (1981)
* "Black Metal" (1982)

Each cardboard sleeve reissue features the high-fidelity SHM-CD format (compatible with standard CD players).

"Hell", the new album from VENOM, was released in North America in September 2008 via Universal Music Enterprises. A promotional video for the CD can be viewed at this location.

VENOM made "Hell" available in a digipack edition via Nuclear Blast's mailorder featuring two bonus tracks — "In League With Satan" and "Burn In Hell" — and an inverted cross. Limited to 333 copies, it can be ordered here.

A complete track from "Hell" has been made available for streaming on the band's official web site. Check out the song "Straight To Hell" at this location. Streaming audio samples of eight songs from "Hell" are available here.

VENOM in 2007parted ways with guitarist Mykvs (a.k.a. Mike Hickey; ex-CARCASS, CATHEDRAL). "Personal unavoidable commitments in the U.S. have forced Mykvs to announce that he cannot commit 100% to VENOM's schedule," the band previously wrote in a statement. A new guitarist by the name of Rage has been drafted in to replace Mykvs.


| | |
| --- | --- |
| [Bazookajoe_666] Monday, April 06, 2009 10:44:56 AM | |
Ratt Announce New Record Deal

Loud & Proud/Roadrunner Records has officially announced the signing of a worldwide deal with Los Angeles hard rockers RATT. The band is set to begin recording its first new material since 1999's self-titled album this spring.

One of the most popular rock acts of the past 20 years, RATT's brand of guitar-driven melodic rock helped shape the L.A. metal scene. The band boasts a deep catalog of hits including smashes like "Round and Round", "Lay It Down", "You're In Love", "Lack of Communication" and "Wanted Man", which are beloved by fans the world over. The band has gone on to sell millions of albums worldwide. With 1984's mega-platinum debut "Out of the Cellar" celebrating its 25th anniversary this year, the band is looking forward to starting a new chapter with new music to complement the impressive legacy they have established over two-plus decades.

"This deal is a great opportunity for us to get our new music to RATT fans worldwide," says frontman Stephen Pearcy. "We are super-excited about the new material!"

Over the past two years, RATT has toured the world in support of their releases "Tell The World - The Very Best Of Ratt" and their first-ever DVD, "Videos from the Cellar - The Atlantic Years". During this time, the current lineup of Stephen Pearcy, Warren DeMartini, Bobby Blotzer, Robbie Crane and Carlos Cavazo played shows in Australia, Colombia and Peru for the first time in their careers.

"The fans deserve the credit for making this happen. When we saw the band in concert and witnessed their passion and excitement, it was obvious that the time was right for RATT to make new music," says Tom Lipsky, Loud & Proud President.

Guitarist Warren DeMartini adds, "We look forward to working with our friend and veteran record exec Tom Lipsky."

The new album is set for a fall release and will be supported by a world tour.


Kiss Announce "First Ever Fan Tour"

KISS is celebrating 35 years of rockin' the world like no other band has ever done before. The legendary band, currently touring soccer stadiums of South America, announced from Brazil today that their upcoming U.S. and Canadian tour will be the world's first to put fans in charge of where their favorite artist plays. By partnering with Eventful, the leading social media company for events, fans will "Demand" where KISS will perform on their latest trek across the top-voted North American markets beginning this September. No matter where the fans say —from stadiums to cornfields — if there are enough votes, KISS will be there! And in order to keep the competition fair for smaller cities, final site selection will weigh population size versus total votes.

Today at the zero hour of exactly 3:00 p.m. EDT, an official video announcement by the band's Paul Stanley, Eric Singer, Tommy Thayer and Gene Simmons (see video at KISSonline.com) kicks off this first-ever promotion. Immediately following the video's debut run, fans across the U.S. and Canada can cast their votes at www.eventful.com/KISS to have their town included on the KISS 2009 North American tour. Fans will be able to vote, and check the tally of what cities are in the lead, 24/7 across the Web at the previous sites; as well as on KISS' MySpace and Facebook, Ticketmaster's KISS page, VH1Classic.com, and many more.

Even after garnering more than 30 gold and platinum records and in excess of 90 million albums sold worldwide, KISS continues to prove the band makes the fans their #1 priority.

"KISS has never followed the rules — we have always broken them. KISS has never listened to critics-we have always listened only to the fans," said Gene Simmons. "It's time to give back to the fans with bigger shows and longer set lists. And for the first time anywhere, we want our fans to tell us where they want us, and when."

Said Paul Stanley, "No band has ever given their fans the power to decide what cities they play, and no fans deserve it more than ours. We're leaving the next U.S. and Canadian tour up to the Army. When they stand up, they will be counted!"

Just for voting for their town, all KISS fans will have the opportunity to purchase pre-sale tickets prior to the general on-sale. In addition to joining in on the major campaigns launched by rock radio in each city, fans are also incentivized to create their own viral videos online, motivating their fellow residents to participate in casting votes for a KISS show in their city. City-specific "best-of" compilation reels of these videos will be shown on jumbo screens at venues before each concert.

On this upcoming tour, fans will be treated to a set of some of rock's greatest hits, including "Rock and Roll All Nite", "I Was Made for Lovin' You", "Detroit Rock City", "God Gave Rock & Roll to You" and "Shout It Out Loud", among many others. The band is currently recording its first new studio album in 11 years (produced by Paul Stanley).


| | |
| --- | --- |
| [kiamat] Monday, April 06, 2009 10:26:47 AM | |
Spinal Tap Announce World Tour (Sort of)
According to the MH website- 'Spinal Tap are back and will celebrate with a 'One Night Only' World Tour
. Yep, you read that correctly.
Spinal Tap have announced a show at Wembley Arena on June 30th, being billed as a one-night world tour. The legendary 3-piece (and a drummer whose life will be no doubt be in danger) play the show to celebrate the 25th Anniversary of their legendary documentary, or rockumentary if you will, 'This Is Spinal Tap'.
The practical question to raise at this point would surely be, are they going to play Stonehenge that night?
In addition to the return of Tap, The Folksmen (subject of the mockumentary A Mighty Wind) will serve as support on this one-night world tour.'
| | |
| --- | --- |
| [Vaillant 3.0] Saturday, April 04, 2009 9:53:38 PM | |