| | |
| --- | --- |
| [hellrider 31038] Sunday, January 03, 2010 2:09:39 PM | |
awesome man.love to hear it.yeah you better learn the rest of it or else


YOU,VE GOT ANOTHER THING COMIN.lol
[Show/Hide Quoted Message] (Quoting Message by Bazookajoe_666 from Saturday, January 02, 2010 10:51:10 PM)
| | |
| --- | --- |
| [Bazookajoe_666] Saturday, January 02, 2010 10:51:10 PM | |
| | |
| --- | --- |
| [hellrider 31038] Saturday, January 02, 2010 7:51:11 PM | |
HEEEEELLLLLLLLLLLLLLLL YEEEEEAAAHHHHHHHHHHHHHHHH.what about THE MIGHTY METAL MELTDOWN .
[Show/Hide Quoted Message] (Quoting Message by Bazookajoe_666 from Saturday, January 02, 2010 6:15:36 PM)
| | |
| --- | --- |
| [Bazookajoe_666] Saturday, January 02, 2010 6:15:36 PM | |
Thanks man.

Anything you'd like to see me do besides Painkiller haha? i cant do that one all the way through
| | |
| --- | --- |
| [hellrider 31038] Saturday, January 02, 2010 4:04:36 PM | |
| | |
| --- | --- |
| [Bazookajoe_666] Saturday, January 02, 2010 2:59:16 PM | |
| | |
| --- | --- |
| [Deep Freeze] Sunday, December 27, 2009 10:30:06 AM | |
HAAAAAAAAAAAAAAAAAAAAAAAAAAAAAAAAA!!!!!!!!!!!!!!!!!!!!!!!!!!!!!!!!!!!!!!!!!!!!!!!!!!!!!!!!!!!!!!!!!
[Show/Hide Quoted Message] (Quoting Message by guidogodoy from Sunday, December 27, 2009 9:55:33 AM)
| | |
| --- | --- |
| [guidogodoy] Sunday, December 27, 2009 9:55:33 AM | |
| | |
| --- | --- |
| [guidogodoy] Sunday, December 27, 2009 9:54:53 AM | |
| | |
| --- | --- |
| [Deep Freeze] Sunday, December 27, 2009 9:50:41 AM | |
Regift??!?!??!?!?!?!? Just who do you despise THAT much??? HAAAAAAAAAAAAAAAAAAAAAAAAAAAAAAAAAAAAAAAAAAA!!!!!!!!!!!!!!!!!!!!!!!!!!!!!!!!!!!!!!!!!!!
[Show/Hide Quoted Message] (Quoting Message by guidogodoy from Sunday, December 27, 2009 9:25:41 AM)
| | |
| --- | --- |
| [SDBinNY] Sunday, December 27, 2009 9:45:50 AM | |
Bird food... Then fill the sucker up with your loose change, cash it in, and get something with strings on it....
[Show/Hide Quoted Message] (Quoting Message by guidogodoy from Sunday, December 27, 2009 9:25:41 AM)
| | |
| --- | --- |
| [guidogodoy] Sunday, December 27, 2009 9:25:41 AM | |
I gots me a new gitar fer Xmas!

Is it just me or does this scream regift?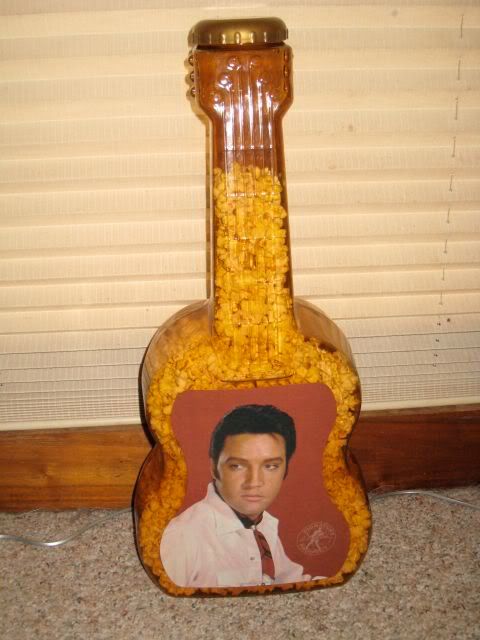 | | |
| --- | --- |
| [Guitardude.] Thursday, December 24, 2009 5:04:09 PM | |
Joe
Both amps are Rectifier amps, meaning that they use a recitifier tube to control voltage going into the power amp tubes. This gives the tone a somewhat "spongy" sound.Which is a sought after tone., it gives a type of natural compression and doesn`t allow the tubes to quite peak as they would if being run by a "Silicon Diode" aka a capacitor, to control the voltage .
The Silicon Diode will give a sharper tone to the tubes as it`s power reserve is much higher and will not peak like a rectifier will.well, atleast within reasonable limits anyway.
The Road King gives you a choice between the Rectifier or the Silicon diode, the Dual or Triple Rectifier`s don`t. So it depends on what you`re looking for tone wise....Thick and Spongy (Rectifier) or Sharp and slightly more articulate (Silicon Diode)
Note worthy is that most of the influential recordings were used using a "Rectifier" type of amp whether it be an old Marshall, Mesa Boogie or an old Fender.
[Show/Hide Quoted Message] (Quoting Message by Bazookajoe_666 from Thursday, December 24, 2009 11:41:08 AM)
| | |
| --- | --- |
| [Bazookajoe_666] Thursday, December 24, 2009 11:41:08 AM | |
Can anyone here tell me anything about the Mesa Boogie Rectifier amps and the Road King amps especially?
| | |
| --- | --- |
| [SDBinNY] Friday, December 18, 2009 4:34:34 PM | |
The SD's I mentioned having in my Les Paul were DiMarzio Super Distortions, thought I should clarify after re reading that...
| | |
| --- | --- |
| [K2M] Friday, December 18, 2009 2:00:11 PM | |
Thank You SD. Your info is greatly appreciated

RockFor Ever
| | |
| --- | --- |
| [SDBinNY] Friday, December 18, 2009 5:06:21 AM | |
I like the Duncan Distortion, The Dimebucker, and the Bare Knuckles are cool as hell if you have the budget. The Jackson J90C is a good one (if you can find one), and as for DiMarzio, I haven't used them in over 20 years. I has SD's in my 76 Les Paul, and my Dad has X2N's in his, but I had a hell of a time getting any mids out of the SD's and the X2N's weren't too bad but I could hardly play his set up anyway....
[Show/Hide Quoted Message] (Quoting Message by K2M from Thursday, December 17, 2009 7:34:06 PM)
| | |
| --- | --- |
| [HOT ROCKIN' METAL GODDESS] Friday, December 18, 2009 12:19:17 AM | |
Thanks so much for the info! And you are absolutely right - if it ain't broke, don't fix it!
[Show/Hide Quoted Message] (Quoting Message by SDBinNY from Thursday, December 17, 2009 3:42:38 PM)
| | |
| --- | --- |
| [Head banger] Thursday, December 17, 2009 8:44:07 PM | |
| | |
| --- | --- |
| [K2M] Thursday, December 17, 2009 7:34:06 PM | |
Question:
What are some passive pickups (Seymour D's, DiMarzio)
That you like
I like Metal . I need a hot Pickup. Want wide frequency range for a Rock / Metal Pickup?

Passive
Edited at: Thursday, December 17, 2009 7:37:51 PM