| | |
| --- | --- |
| [Trixi] Wednesday, May 08, 2013 9:26:04 AM | |
This side is here to write only important things to the band, instead to write things beside the point!
[Show/Hide Quoted Message] (Quoting Message by Trixi from Wednesday, May 08, 2013 9:23:08 AM)
| | |
| --- | --- |
| [Trixi] Wednesday, May 08, 2013 9:23:08 AM | |
This side is here to write only important things to the band, unstood to write things beside the point!
[Show/Hide Quoted Message] (Quoting Message by Tania2194AD from Wednesday, May 08, 2013 9:03:54 AM)
| | |
| --- | --- |
| [Tania2194AD] Wednesday, May 08, 2013 9:03:54 AM | |
| | |
| --- | --- |
| [Trixi] Wednesday, May 08, 2013 8:58:09 AM | |
No Tania, Trixie is my name in English! I´ve said it to guidogodoy.
[Show/Hide Quoted Message] (Quoting Message by Tania2194AD from Wednesday, May 08, 2013 8:47:17 AM)
| | |
| --- | --- |
| [Tania2194AD] Wednesday, May 08, 2013 8:47:17 AM | |
| | |
| --- | --- |
| [Trixi] Wednesday, May 08, 2013 8:42:04 AM | |
| | |
| --- | --- |
| [Tania2194AD] Wednesday, May 08, 2013 3:17:56 AM | |
| | |
| --- | --- |
| [guidogodoy] Tuesday, May 07, 2013 2:41:32 PM | |
| | |
| --- | --- |
| [Trixi] Tuesday, May 07, 2013 1:45:41 PM | |
That´s right, Tania, of course Scott Travis must stay in this wonderful band, no one else!

There are many discussions about Nostradamus, you need no discussions, you want to entertain the fans, and the fans must accept your album and your decisions!

Rob Halford and Glenn Tipton, I would like to ask you, what do you thinking about Nostradamus and a potential realizing of the fabulous and fantastic Opera Nostradamus on stage into a big show, it is possible for you or not? Would you like to do this one time? What do you make of it, no matter what some people say? Rob said never say, never.

I will absolutely respect all your decisions about this, you know when the time is right for it, you and your management will already know what you do, what you want to do and if it´s good for your business or not!

I create the topics Realize the Opera Nostradamus and K. K. Downing, it doesn´t matter what some people say, you can very proud of this wonderful and successful work!

Yours faithfully, Trixie


[Show/Hide Quoted Message] (Quoting Message by Tania2194AD from Tuesday, May 07, 2013 11:21:32 AM)
| | |
| --- | --- |
| [Tania2194AD] Tuesday, May 07, 2013 11:21:32 AM | |
it's a stupid question...
Travis was born for JP and no one can't paly better than he (like Ripper can't replace Rob Halford and bla...bla..)
[Show/Hide Quoted Message] (Quoting Message by Head banger from Monday, May 06, 2013 8:36:02 PM)
| | |
| --- | --- |
| [Head banger] Monday, May 06, 2013 8:36:02 PM | |
| | |
| --- | --- |
| [Trixi] Monday, May 06, 2013 2:05:53 PM | |
There must be a big and great (last) show with K. K. Downing! You can´t retire without this fabulous, fantastic, perfect, awesome, powerful and greatest guitarist, of the whole world and of all time! K. K. Downing and Glenn Tipton are perfectionists and they are the greatest and the most conscientious guitarists, with the most charisma, enthusiasm and power, I have ever heard and seen! It must be a reunion between K. K. Downing and Judas Priest!

Richie Faulkner is a good guitarist but he can´t replace Kenny´s perfection and his extremely, enormous, great and powerful charisma!

Kenny and Glenn do to complement each other and they worked perfect in a team.

Also another singer can´t replace Robert Halfords golden voice, his screams, his sight, his sound, his movements, his charisma, his enthusiasm, his power, his feelings, his words, his lyrics, his stories, his styles, his appeal, his passions, his emotions, his madness, his stormy wildness, his enormous energy, his charm, his artful singing, his sensitive feelings, his self –confident, his ecstasy, his inspirations, his creativity, his intense light and might in his eyes and every single tone in his phenomenal works. He is the greatest singer of all time!

Rob Halford, K. K. Downing and Glenn Tipton are unique and they are the diamonds in the empire of Heavy Metal! Judas Priest are the founders of Heavy Metal and the band must to continue, the real fans were very grateful for this! This band is my absolutely shining example! I just can´t get enough, I´m addicted to this band, I love every single album and every wonderful statement in the interviews , some people of your homepage, can´t understand this and some of the "real" fans don´t accept this very hard work of Nostradamus, I can´t understand this!

I love the way that Glenn Tipton always like to experiment, to stretch and expand the potential, he use to try anything and he create melodies and new styles. Every album is an adventure and an experience. Glenn has the ambition and the ability to compose and create a sophisticated, unadulterated, advanced and highly developed music. For instance the mystical, fantastic and fabulous work of Nostradamus, to give Heavy Metal more opportunities and acceptability`s! It´s a very dreamy, fascinated, fantastically, incredible, fabulously, terrifically and imaginative kind of music. I would like to support your fantastic idea to realize this sometimes underestimated Opera one time. It is a combination between classic and Heavy Metal, I´ve never heard so an extraordinary music before, it is the absolutely intense, powerful, artful, mystical and mighty masterwork of this century, of all time! It burns deeply in my heart! Judas Priest can be very proud of it! Rob is an intellectually lyricist, he has a lot of impressions and Glenn is the most artful composer at a highest level, I have ever seen! I appreciate this and I´m absolutely your meaning!

Long live the godfathers and grandmasters of Judas Priest to the eternity; no one can replace this band now and in the future! I wish you all the best for the future! God bless you!

Your faithfully and fanatic fan, Trixie


[Show/Hide Quoted Message] (Quoting Message by Trixi from Sunday, May 05, 2013 3:26:21 PM)
| | |
| --- | --- |
| [Trixi] Sunday, May 05, 2013 3:26:21 PM | |
| | |
| --- | --- |
| [Jerri] Friday, May 03, 2013 2:01:39 PM | |
Sell The Judas Priest Movie on DVD soon Please
| | |
| --- | --- |
| [Tania2194AD] Friday, May 03, 2013 10:39:43 AM | |
Hello dear management and Metal Gods i have some suggestions for the new album and another stuff
- suggest to create a 3D cover page for the new album (on cd and on vinyl)
- make the DVD Epitaph in 3D format also;
- reissue the Nostradamus album with 3D cover page too
consider my suggestions... and if it's possible realise them...
thanks previously....Tania



| | |
| --- | --- |
| [Defender Stu] Tuesday, April 30, 2013 11:53:58 PM | |
Dear members of Judas Priest
You guys are my favourite band and am glad you are taking a well-earned rest from world touring. I think it would be good for the fans to include them more in your band activity,
there are long periods where we don't know what is going on and this makes it difficult to stay exited or informed about upcoming releases. Glen Tipton's tour diaries were excellent and made me feel closer to the band. Web-episodes of you guys doing stuff in the studio would be great, Richie Faulkner's presence on Facebook is great and I'm always exited to see his status's.
I am looking forward to the new album!
Cheers
Alex Stuart
| | |
| --- | --- |
| [Konstantin 14548] Monday, December 31, 2012 7:40:42 AM | |
HAPPY NEW YEAR!!!
| | |
| --- | --- |
| [Tania2194AD] Sunday, December 23, 2012 11:37:42 PM | |
MERRY CHRISTMAS JUDAS PRIEST!!!
HAPPY NEW YEAR METAL GODS!!!!!!!
I wish you all the best (health,success....)!!!



| | |
| --- | --- |
| [tardisgirl70] Sunday, December 23, 2012 2:10:14 PM | |
Hiya Guys
Happy Christmas!!


I've seen some great drummer videos posted onto You Tube by Scott. Videos taken whilst on tour, behind the drum kit. Any more to come? :-)

Edited at: Sunday, December 23, 2012 2:15:27 PM
| | |
| --- | --- |
| [METALMANJP] Friday, December 21, 2012 11:31:43 AM | |
Merry Christmas, hope 2013 brings you good health,wealth and joy.
| | |
| --- | --- |
| [Tania2194AD] Thursday, October 25, 2012 1:13:16 PM | |
Happy birhtday Mr. G. Tipton. Hard Core!!!!!!!!!!!!!
| | |
| --- | --- |
| [astarup] Thursday, October 25, 2012 3:12:32 AM | |
Happy Birthday mr. Tipton, we are celebrating you with cake, here at my job :o) Have a great day!! Sincerely Annette


| | |
| --- | --- |
| [Tyrant] Sunday, July 29, 2012 3:37:47 AM | |
Judas Priest, simply must come to Australia. I know its not the guy's ( band ) fault . We are along way from the rest of the world, but we are as hard core as any when it comes to the priest ! Trying to cut a deal to get here must be very frustrating, all i ask is give it the same mighty metal effort , as you do whilst on stage, then the bullshit will go out the door, and the wankers over here will drop to their knees , and give in to the mighty PRIEST, and the mass of fans waiting to stand as 1 infront of the greatest band on the fucking planet will get what we deserve!!!!!!!

JUDAS FUCKING PRIEST !

Nuff said.

Tyrant.



Never turn your back, on the Ripper! Tim Owens ..


Edited at: Sunday, July 29, 2012 3:43:13 AM
| | |
| --- | --- |
| [Stratovarius217] Friday, April 27, 2012 7:21:23 PM | |
I cant really see Rob singing Ave Maria but if he did I bet it would be kick ass
| | |
| --- | --- |
| [Trick37] Friday, April 27, 2012 4:59:58 PM | |
Looking forward to seeing you guys in Leipzig, Germany tomorrow (28 April 2012). We're driving over 6 hours for this from Bitburg (I'm stationed at Spangdahlem Air Base, near Bitburg). I'm also taking my newly-wedded wife and step-son to their first Priest concert, so this especially special for them, too.

I have a couple of requests for the band:

1). Please do more concerts in and around the western most part of Germany (and/or in Luxembourg and Belgium).
2). Rob, my wife is very musically-inclined, and she's impressed with your voice. Her request (and mine, too) is for you to sing Ave Maria. She believes that you will blow people away singing it the way it should be sung. Is this a possibility?
3). I've been reading some postings about problems with the sound and stuff. I hope this isn't the case tomorrow.
4). Is it possible for the band to do USO tours for the U.S. military in Europe, Asia and the Middle East?

Thanks, guys.

---Rick


| | |
| --- | --- |
| [marmie] Friday, March 02, 2012 4:04:18 AM | |
Hi, Metal Gods!

Thank you so much for the incredible show in Japan!I went to your concert at Fukuoka and Kobe.
You put on the best show i've ever seen.Rob's voice blew me away!
It was amazing.Glenn played the guitar with a happy smile.
Glenn is my favorite guitarist of all time.ian..totally cool!

Scott...he is such a incredible drummer!His drum solo was awesome.I love his work
!Richie...I was surprised because he was so attractive and aspring!
I've become a Richie fan.

I had so much fun!I jumped with joy!Thank you for always making me a smile...I'd love to see you again in Japan!!

I hope the tour is going well.
| | |
| --- | --- |
| [Ken 8706] Wednesday, January 18, 2012 1:21:43 PM | |
Hello Boys and Management!
PLEASE record a DVD/Blu Ray for the Epitaph Final Tour.
It is a MUST for all Priest fans.
A night to be saved and remembered for us all and our childrens children. (Sound Check, Backstage footage, etc would be awesome!!)


Thank You guy's and hope there is another U S Leg for the Mid-West before it's over....PLEASE!


Take Care, Long Time Fan,
Kenny G



Edited at: Wednesday, January 18, 2012 1:22:54 PM
| | |
| --- | --- |
| [METALMANJP] Thursday, December 22, 2011 3:06:45 PM | |
| | |
| --- | --- |
| [lilmac] Tuesday, December 20, 2011 12:17:51 PM | |
To the musicians of Judas Priest-
This is to counter some of the crap posts I've seen on your Noticeboard!!! (I posted this in the Judas Priest TOURS Section)
"Sounds like there are still some whiners out there! All I know is this- I first heard Judas Priest in 1976-77, for there album cover art really fascinated me being that I was in 4th grade at the time. Same went for BOC, great music, amazing art! I first saw the mighty JUDAS PRIEST live in Kansas City on 7/15/84 which happened to be my 16th birthday....can you say party time? A band called Kick Axe opened and believe me, we all eagerly waited for the Priest to rage! I was thoroughly impressed with Love Bites, the Sentinel, etc. LIVE!!! After seeing every tour except for Painkiller (wasn't into the "new" style of speed metal at the time + Megadeth opened) since 1984, I can say that this was by far THE best performance that the boys in Judas Priest have done since the 1980's. PURE energy, crowd went nuts and Halford was spot on! We saw the St. Charles, MO show (western St. Louis area) on Nov. 10th, and believe me, I'm STILL HIGH off of that set! I'm sorry you folks are so critical of what you saw in Texas, etc.; but you obviously saw an "off night" similiar to the St. Louis, British Steel show we saw in 2009. I however will never by into your criticism of this tour. The ENTIRE band put in so much energy into their St Charles show that not a ONE person I talked with was dissapointed. SO THANK YOU JUDAS PRIEST FOR PROVING THAT YOU ARE THE BEST METAL/HARD ROCK ACT TO EVER TOUR THE PLANET!!! Love that JUDAS PRIEST!!! "

I again want to say again that Ritchie and the Band was completely over the top in St. Charles (St. Louis, Missouri) on November 10th. THANK YOU FOR THE AMAZING PERFORMANCE!!! My friend lost his leg in an accident and I took him from KC to this show St. Louis, we had a blast!!! You MADE his year... THANK YOU AND MERRY CHRISTMAS BROTHERS!!! Douglas of Kansas City

| | |
| --- | --- |
| [Judas Priest / One For The Road] Sunday, December 18, 2011 8:36:08 PM | |
Thank you for the years of Metal. It has been a Heavy Metal relationship that has grown and flourished over the years. It was a great pleasure for me to witness Heavy Metal at it's finest not 1, not 2 but 3 times on this your final world tour. Richie has done one hell of a bang up job in filling the shoe's ok KK and I look forward to him laying down some riffs on the new record.

Hope to see you visit the states in the next couple of years, Nostradaumes from beginning to end and then some old and new Metal would be very interesting. This concept album tells a wonderful story in Judas Priest style Heavy Metal. Now that you have come full circle in Metal it would be nice to Deliver The Goods one more time in Rochester NY. In tours past you have returned the folowing year close by atleast to Buffalo or Syracuse which would be fine as well.

Thank you once again for this great EPITAPH Tour. As I watched and listened in amazement, it didn't look like an old man sitting there!! It was more like The Call For The Priest has just begun. With the years of touring and with the over 30 times that I have seen the Priest, it was an absolute Heavy Metal show for all ages. You guys have never skipped a beat and Rob's voice is still an octave above everyone else.

KEEP IT METAL!!!
| | |
| --- | --- |
| [Judas Priest / One For The Road] Sunday, December 18, 2011 12:59:20 AM | |

Edited at: Sunday, December 18, 2011 1:01:58 AM
| | |
| --- | --- |
| [Judas Priest / One For The Road] Sunday, December 18, 2011 12:54:31 AM | |
www.facebook.com/1JudasPriest1?ref=tn_tnmn

Edited at: Sunday, December 18, 2011 12:55:51 AM
| | |
| --- | --- |
| [guidogodoy] Friday, December 16, 2011 10:57:48 PM | |
That is one heck of a nice shot!

| | |
| --- | --- |
| [Judas Priest / One For The Road] Friday, December 16, 2011 10:15:17 PM | |
Best pic of The Metal God I ever took in Reading PA. BELOW!!!

Judas Priest / One For The Road
http://www.facebook.com/1JudasPriest1?sk=wall
Description

"For 40 years Judas Priest has been on the scene and has created the Metal Music that is timeless over the years and has left a staple in music in general. The Epitaph tour was breathtaking and the music was typical of Judas Priest Style Heavy Metal. They took you for a walk down memory lane with hits such as Star breaker, Never Satisfied and Beyond the Realms of Death.

This brand of Metal which is unmistakable was engrained in me as a youth and has carried me through some very difficult times in my life and as of late is a part of my successes that I have been blessed with. They say this is not the last tour and that they shall be back for some shows which indeed I believe they will.

I thought I would make a page for the fans to comment and tell their stories and post their favorite JP songs and get the Metal out. Let's bring the Metal God's back to our cities so they can Unleash the Metal that has meant so much to us over the years. Feel free to comment on anything and everything that is JP related. Keep it Metal!!!"



Edited at: Friday, December 16, 2011 10:17:14 PM
| | |
| --- | --- |
| [Judas Priest / One For The Road] Friday, December 16, 2011 10:06:46 PM | |
| | |
| --- | --- |
| [Becks] Friday, December 16, 2011 6:28:14 PM | |
| | |
| --- | --- |
| [blzbub1] Friday, December 16, 2011 5:32:46 PM | |
Hey hey, I agree. Don't forget little old NEW ZEALAND please! You have a hell of a lot of long time faithful fans down here that are dying to see you guys. Bring on the rock!!!!!!!!!!!!!!!!!!!!!!!!!!!!!!!!
| | |
| --- | --- |
| [Judas Priest / One For The Road] Friday, December 16, 2011 11:51:42 AM | |
| | |
| --- | --- |
| [Zomby] Thursday, December 08, 2011 10:15:31 AM | |
Please come back to cambridge corn exchange they've improved the accoustics 10 fold you kno smaller venues are good and more personel you haven't rocked cambridge to its foundstions for years
| | |
| --- | --- |
| [Becks] Monday, December 05, 2011 12:06:50 AM | |
YES!!!!
Please please come to NZ - or at least Australia, at least that's a realistic trek for us
the music Judas Priest has blessed the heavy metal world with is so many things to me: calming, energising, inspiring, exciting - most of all, it makes me happy, and has helped me through some difficult times. If you come to NZ (or Oz) I will be front row centre, banging my head and singing every single lyric!!!

[Show/Hide Quoted Message] (Quoting Message by spapad from Sunday, December 04, 2011 6:05:56 PM)
| | |
| --- | --- |
| [Vaillant 3.0] Sunday, December 04, 2011 6:28:53 PM | |
Yeah! What she said!


Besides, you can't say you've been to every corner of the world in your last tour if you haven't played in Australia nor New Zealand, now can you?
[Show/Hide Quoted Message]
(Quoting Message by spapad from Sunday, December 04, 2011 6:05:56 PM)
| | |
| --- | --- |
| [spapad] Sunday, December 04, 2011 6:05:56 PM | |
Your shows in the US left me smiling for days.

My request is that you PLEASE don't leave Australia and New Zeland neglected this tour. A Hoard of VERY sweet people who thrist for Judas Priest live down that way. If it is at ALL within your power Metal Gods, Please Visit these places!
| | |
| --- | --- |
| [Stratovarius217] Thursday, December 01, 2011 9:24:35 PM | |
Judas Priest,
Can you guys cover Saga- Wind Him Up please
It's a cool song and it would sound awesome if you guys covered it (:
thanks \,,/
| | |
| --- | --- |
| [guidogodoy] Saturday, November 26, 2011 7:21:04 PM | |
Ze coat, Meester Halford, sell me ze glowy coat. I wish to puuuurchase it!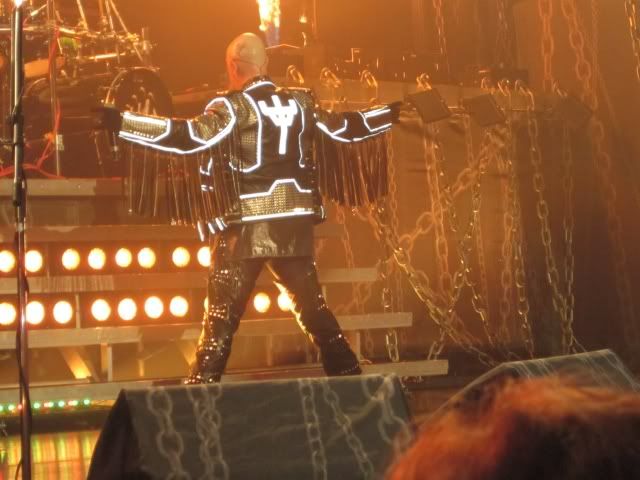 | | |
| --- | --- |
| [emoyag] Saturday, November 26, 2011 10:43:25 AM | |
I will see you tomorrow in the
Winston-Salem Coliseum

. It will be my son's first Judas Priest concert and my fourth one ( the last one was in 2004). Just one request: Please rock us to hell and then come back next year to do it again!!! CAN'T WAIT!!!
PM
[email protected]
| | |
| --- | --- |
| [metalgodess] Thursday, November 24, 2011 2:01:51 PM | |
THANK YOU FOR THE BEST NIGHT OF MY LIFE - ACC TORONTO, NOVEMBER 22. PLEASE COME BACK. THIS WAS THE ONLY TIME I'VE EVER SEEN JUDAS PRIEST IN CONCERT, AND IT CAN'T BE MY LAST. PLEASE PLEASE PLEASE. I NEED TO FEEL THAT EXHILARATION AGAIN, WHICH I ONLY SEEM TO GET FROM YOUR INCREDIBLE 40 YEARS WORTH OF MUSIC. WE LOVE YOU GUYS FOR ALL YOU HAVE GIVEN US, PLEASE DON'T STOP YET.
| | |
| --- | --- |
| [emoyag] Saturday, November 19, 2011 12:21:24 AM | |
FINALLY!!!




On his Tour Diary( which is one of the coolest things a rock star has ever done for his fans) Glenn mentions the possibility of a SECOND USA TOUR LEG next year.
Well Mr Tipton..... YES PLEASE!!!


Me and my buddies here in North Carolina ( as well as all your fans here in the East Coast) will be waitin for you guys ( can't wait to see you on Nov 27 in Winston-Salem , NC).

PS: If ( or when ) you come back please go wild on the set list and play all the rare classics and hidden gems that your long-time true fans long to hear.

" ROCK HARD, RIDE FREE
ALL DAY ALL NIGHT
ROCK HARD, RIDE FREE
ALL YOUR LIFE..."
PM
[email protected]


Edited at: Saturday, November 19, 2011 12:25:19 AM
| | |
| --- | --- |
| [.] Friday, November 18, 2011 4:13:15 PM | |
It's going to be fun singing BREAKING THE LAW in Singapore!!!!!



| | |
| --- | --- |
| [[email protected]] Thursday, November 17, 2011 2:12:04 PM | |
Gents,
I'll be at the Montreal show, seeing you for the 8th or 9th time. I've been a Priest fan since I was a kid. Back in high school, I made an 8 foot long banner (I tried to paste a photo below but I guess I can') with a buddy of mine. It's 8 feet long and has a full colour Hellion at one end and Metallion at the other. I've carried it with me for 28 years now and I guess I'll be retiring it after this show. Is there any way I could get you to autograph it for me at the Montreal concert Nov 24th?
Best regards,
Bruce Dunlop
[email protected]


| | |
| --- | --- |
| [Ken 8706] Monday, November 14, 2011 1:33:17 PM | |
Please put out a Blu Ray disc of this Epitaph Farewell Tour!!!

What a Show! A MUST for all fans!!

Bonus rehersals, backstage footage, etc., etc.
We Love you guys.

Long Time Fan,
Ken