| | |
| --- | --- |
| [J.D. DIAMOND] Tuesday, September 21, 2010 1:10:02 PM | |
If your talking about the NFL Head Banger then thats a no brainer without a google research......Ron it is "BRETT FAVRE"!!!!!!

[Show/Hide Quoted Message] (Quoting Message by Head banger from Tuesday, September 21, 2010 6:15:22 AM)
Edited at: Tuesday, September 21, 2010 1:11:17 PM
| | |
| --- | --- |
| [Head banger] Tuesday, September 21, 2010 8:31:26 AM | |
hes the one. not sure he would have been right for the NFL. the CFL is a more passing oriented game, and doesnt need the mobility. the guy I would like to see there is Henry Buris. I know he had a tryout a couple of years ago though.
[Show/Hide Quoted Message] (Quoting Message by ron h from Tuesday, September 21, 2010 6:42:04 AM)
| | |
| --- | --- |
| [ron h] Tuesday, September 21, 2010 6:42:04 AM | |
The only other guy I can think of would be Damon Allen, who played his entire career in the CFL. I would have enjoyed seeing what he would have done in the NFL!!

If it's not him, then I have no idea as I know it's not Brett Favre.
[Show/Hide Quoted Message] (Quoting Message by Head banger from Tuesday, September 21, 2010 6:35:32 AM)
| | |
| --- | --- |
| [Head banger] Tuesday, September 21, 2010 6:35:32 AM | |
| | |
| --- | --- |
| [METALMANJP] Tuesday, September 21, 2010 6:28:19 AM | |
| | |
| --- | --- |
| [ron h] Tuesday, September 21, 2010 6:28:11 AM | |
Good morning HB, long time no chat lol!!

Out of fear of making a statement w / o researching first (ie Jim Kelly), I will GUESS it would be Warren Moon. A great QB who spent the first half of his career in the CFL before becoming an NFL star.
[Show/Hide Quoted Message] (Quoting Message by Head banger from Tuesday, September 21, 2010 6:15:22 AM)
| | |
| --- | --- |
| [Head banger] Tuesday, September 21, 2010 6:25:11 AM | |
| | |
| --- | --- |
| [METALMANJP] Tuesday, September 21, 2010 6:24:47 AM | |
| | |
| --- | --- |
| [Head banger] Tuesday, September 21, 2010 6:15:22 AM | |
quick quiz. which Profesional Quarterback has the alltime total passing yards record?
| | |
| --- | --- |
| [J.D. DIAMOND] Tuesday, September 21, 2010 2:11:34 AM | |
Dude yeah,Cutler looked like a pro bowler out there lol! Right after I said he sucks...boom he had 21 comp. of 29 att. 72% 277 yards 3 tds with no Ints!!!!! How did he do it ron?? lol! Yeah but he is like a ticking time bomb thats over due to explode...you know he'll throw a game losing pick one of these games this season lol!

About Favre....yeah he isn't in rhythm and they are 0-2 but I'm glad he had the balls to come back man,so they are 0-2....the big game is sunday against the Lions lol!

And actually the Bills only had one close Super Bowl it was thier first...they lost 20-19 to the New York Giants because Scott Norwood missed the game winning field goal.The next 3 Super Bowls the lost to Washington 37 -24,they lost to Dallas 52-17 and then again to Dallas 30-13.

Hey,going back to Favre....all of a sudden the Lions of all teams are like a Super Bowl champion waiting for the Vikings cause if the Vikings fall 0-3 then mentally I don't think they can pull themselves out of it.If they beat Detroit on Sunday then maybe they can still hope for a 10-6 perhaps? If they can get into the playoffs on a roll then they can be a spoiler to another team's season haha!!

An[Show/Hide Quoted Message] (Quoting Message by ron h from Monday, September 20, 2010 5:08:01 PM)
Edited at: Tuesday, September 21, 2010 2:20:33 AM
| | |
| --- | --- |
| [Brian_Evans] Monday, September 20, 2010 8:42:08 PM | |
I have to agree with Diamond here about Joe Montana, although I couldn't ever stand the guy. lol The 49ers always had a chance with Montana and he came through with the big plays. One thing though, the teams they beat in those superbowls were pretty weak in my opinion, Bengals, Dolphins, pre Shanahan - Terrell Davis Broncos. I feel sorry for the 49ers because they probably will never have another dynasty quaterback like Montana. lol
Edited at: Monday, September 20, 2010 8:45:47 PM
| | |
| --- | --- |
| [ron h] Monday, September 20, 2010 5:08:01 PM | |
Did you get to see any of that Bears / Cowboys game? I didn't think Cutler was gonna make it out of the first quarter with all his arms and legs attatched!!! That 'D' was putting him on his back hard on every single play. I don't know how he kept getting up!!

What I did like, and was suprised about, was that he went on the attack. You wanna stack the line, I'll short pass you to death. Next thing you know, were heading downfield in H U G E chunks!! 3 TD's, 0 INT's!!

Our 'D' stepped up as well. It was nice seeing Romo running around and making bad throws. 1 TD, 2 INT's.

We have a huge test next Monday night at home against the Packers, can't wait for that game!!

Yeah, I think Favre is wishing he would have retired after last season!!
[Show/Hide Quoted Message]
(Quoting Message by J.D. DIAMOND from Sunday, September 19, 2010 1:36:11 PM)
| | |
| --- | --- |
| [ron h] Monday, September 20, 2010 5:00:42 PM | |
Yeah J.D., I guess that's why I can't put Montana on the top of my list, he kicked our asses too many times!!! lol We did beat him our fair share, but not in the important games (ie '84 NFC Championship game!!). But Favre, we played him twice a year and he went forever and a day kicking our tails!! Now it's Rogers turn lol.

For the record, Jim Kelly lost 2x because of a missed FG, not 4 like my post alluded to.
[Show/Hide Quoted Message] (Quoting Message by J.D. DIAMOND from Saturday, September 18, 2010 1:13:02 PM)
| | |
| --- | --- |
| [acolyte55] Monday, September 20, 2010 11:35:17 AM | |
the cardinals were in the game against atlanta right up until the opening kick-off lol
| | |
| --- | --- |
| [J.D. DIAMOND] Sunday, September 19, 2010 1:36:11 PM | |
Fuckin A Ron,Minnesota falls 0 -2 ! What a bummer,at 0-2 I'm wondering if they can make the playoffs this year? Game 3 next week Minnesota hosts the Detroit Lions....if they lose to the Lions the season is definately "O.V.E.R.".

I'm glad Favre still came back though,how could he of not after last season's sucess going 12-4 making it to the NFC Championship game,but after this season especially starting at 0-2...if they end up 9-7 and miss the playoffs then Favre will DEFINATELY retire after the seaon is over and this time it will be for good,no off season drama,this is it. Favre looks like shit this season so far but he is still in my top 10 best QBs. of all time.There is just now way he is better than Joe Montana! HAHA!!

How about your Bears though eh,2-0? lol! The Dallas Cowboys are in the same situation as the Vikings now,both 0-2 and now may miss the playoffs...maybe your bears will win the NFC North? Who would of thought that the Bears would be doing far better than the Vikings or Cowboys? You of course lol!
Edited at: Sunday, September 19, 2010 1:39:59 PM
| | |
| --- | --- |
| [J.D. DIAMOND] Saturday, September 18, 2010 1:13:02 PM | |
LOL! Ron.....yes Joe had a great team,but Steve Young couldn't do what Joe did,sure he won a Super Bowl ring and it was against the lowly weak SanDiego Chargers! lol! And I don't just say that Joe is the best because John Madden says so,I've followed Joe throughout his entire Career!

And Ron...Joe did NOT fall "flat on his face" with the Chiefs,he took that team all the way to the AFC Champinionship game,one game away from the super bowl ron!!! The next season he took them to the wild card playoffs and lost to Miami,but at least they made it to the playoffs.

And Favre won at the Jets? They didn't even make the playoffs when he went to the Jets! Farve had a great cast around him at Green bay too. Farve is great I agree,he has all the records to prove it...including the most interceptions ever thrown HAHA!!

And jim Kelly yes,I used to hate that guy because he beat every team I liked in the playoffs but he was absolutely NOT "one place kicker away from being a 4 time Super Bowl winner himself"...not even close,he was a place kicker away from beating the Giants (Buffalow's first Super bowl)...the other 3 Super Bowls in a row...they got thier asses kicked! LOL! But I still rate Kelly in the top 5 QBs.

Montana retired when he was 38,but he had a severe back injury,wrist,shoulder..ect....much more than Favre ever had. Montana was better than Favre in my book,but I'm not here to convince you other wise,I know who the best is HAHA!!!

It takes a team to win,and Montana didn't win by himself,yes he had an incredible cast around him,but I saw him make plays in the clutch when it was up to him and his choices of where to throw to and when....something Favre and many other QB's have not been able to do including Steve Young and Brett Favre.

Joe made many of these "clutch" throws and because of them,he took the 49ers to 4 Super Bowls and won them all with 3 Super bowl MVPs. (7 NFC Championship game appearences as well). I've never seen anything like Joe since.

Yes there are many greats,I'm not saying Montana is "far" above other QBs,but he is just out of reach at the top for other qb's to get to.Yes the only other QB that has 4 Super Bowl rings is Terry Bradshaw,and that guy was excellent,not as high of passer rating as Joe,but still great.I think Steve Young actually had a higher passer rating than Joe did,but Joe overall was the all time great. I'd say the best 5 qbs of all time would be: And I'm not just giving credit because the QB played in a Super Bowl,I'm giving them credit for thier achievements throughout thier careers:

Joe Montana(4 Super Bowls wins,3 Super Bowl MVPs)

John Elway (the only qb to play in 5 Super bowls,won the last 2 back to back)

Terry Bradshaw(4 Super bowl wins)

Tom Brady(4 Super Bowl appearences and 3 titles)

Jim Kelly(4 straight Super Bowl appearences,no titles but pretty impressive)

I'd put Favre at #6.(2 Super bowl appearences,one title)

Joe Montana made the smartest choices when passing the football,I saw it,yet others will say "he just had a great team"......if that were ture,than Steve Young would of won 6 Super bowls.

This is all just my opinion Ron,and I will accept that for you Favre is the best,thats all good,but I always defend Joe Montana! I do hope Favre takes the Vikings to the Super Bowl,but that just aint gonna happen,it would be too good to be true,the Saints will go back to the big dance this year unfortunately.




[Show/Hide Quoted Message] (Quoting Message by ron h from Saturday, September 18, 2010 6:04:40 AM)
Edited at: Saturday, September 18, 2010 1:38:14 PM
Edited at: Saturday, September 18, 2010 1:43:06 PM
| | |
| --- | --- |
| [Head banger] Saturday, September 18, 2010 7:32:14 AM | |
Survivor? I dont think I would do well there. would piss off many people, cause they are all fools. on the bright side, i know how to make fire, and fishing gear.
[Show/Hide Quoted Message] (Quoting Message by zomby from Saturday, September 18, 2010 1:46:51 AM)
| | |
| --- | --- |
| [ron h] Saturday, September 18, 2010 6:04:40 AM | |
J.D., you make me laugh bud!! lol Sometimes I post things just to stir things up, but this isn't one of them. Joe Montana was a great QB, that is a fact, but the best ever?? And because John Madden says so does nothing to give credibility to it (I quit drinking his 'kool-aid' a long time ago lol).

Montana was fortunate to have a pro-bowl offense, period. That West Coast style that Bill Walsh brought to San Fran is what made Joe. It was such a great system that Steve Young, a QB who couldn't cut it with the woeful Buccaneers became a pro-bowler. Joe went to the Cheifs and fell flat on his face!

Now take Bret Favre. As much as I hate the Packers, he's the best ever in my book. Not only did he win there, he went to the Jets and won and now he's winning with the Vikes. He's playing well into his 40's and is continuing to have a positive impact on his team. Offseason theatrics aside, he's a differencemaker on the field and he's done it year in and year out regardless of the talent level he has to play with. He's never had a Rathman, Roger Craig, Jerry Rice to play with.

Sure, Joe has all those SB rings and MVP's, but he had a hell of a cast around him. Look and Jim Kelly, one place kicker away from being a 4 time SB winner himself (with the stats to go with it)!!

Montana would be in my top 5, but Favre would be #1. And let's not forget the Bradshaw's and Staubach's and Namath's and Fouts's and Kelly's and Elway's. Montana, hands down, had the most offensive weapons of them all...except maybe Aikman.
[Show/Hide Quoted Message] (Quoting Message by J.D. DIAMOND from Friday, September 17, 2010 2:55:44 AM)
| | |
| --- | --- |
| [Zomby] Saturday, September 18, 2010 4:26:02 AM | |
liverpools main man torres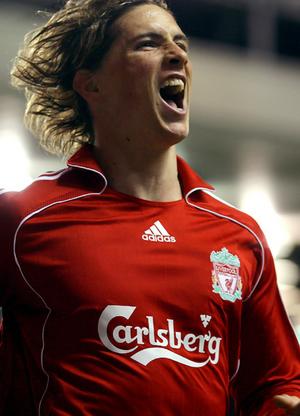 | | |
| --- | --- |
| [Zomby] Saturday, September 18, 2010 1:46:51 AM | |
hi headbanger are you like survivor man thats a great tv show