| | |
| --- | --- |
| [metalmaz] Monday, January 26, 2009 9:24:08 AM | |
Well I recycle but that's about it

If some arsehole poitician thinks I'm going to give up my car and travel on public transport with all the riff raff he's got another thing coming.

That Live Earth concert created a huge carbon foot print anyway
| | |
| --- | --- |
| [Deep Freeze] Monday, January 26, 2009 8:48:04 AM | |
HA!!!!!!!!!!!!!!!!!!!!!!!!! That's RIGHT!!! He DOES annoy me that that "Go Green" , "Save the Earth", hippie crap!!!! HAHAHAHAHAHAHAAA!!!! And as far as I can see, that print might be my daughter's! Mine is MUCH bigger and , if I have anything to say about it, it will get much, MUCH larger before I am gone!!!

I go through at least a case and a half of bottled water a week, I throw ALL my garbage in the same friggin ' can, I use my washer and dryer whenever I damn well please and I drive my car from the front door to the friggin' mailbox!!!!! HAAAAAAAAAAAAAAAAAAAAAAAAA!!!!!!!!!!!!!!!!!!!!!!!!!! Save the earth...pphhhhhhhfffffftt! Yeah, yeah. Peace and love and pass me a "doobie", man.

There are enough people going through my garbage to make certain that it gets properly seperated. I am too freakin OLD to try to string a clothesline and, in all honesty, I happen to like to get from place to place in my car. That is why I bought the damn thing. You guys do the "earth saving", OK? I truly do not plan to live long enough to reap it's benefits anyway.......BWWWAAAAAHAHAHAHAHAHAHAHAHAHAHAHAHAHAHAHAAAAAA!!!!!!!!!!
| | |
| --- | --- |
| [_strat_] Monday, January 26, 2009 1:49:45 AM | |
Lol... Yup, when we all get fried because the ozon layer will disappear... We know exactly who to blame.


And what do you mean that he doesnt recycle? Over here, either you recycle or get fined.
[Show/Hide Quoted Message] (Quoting Message by guidogodoy from Monday, January 26, 2009 1:31:40 AM)
| | |
| --- | --- |
| [guidogodoy] Monday, January 26, 2009 1:31:40 AM | |
I harass Deep Freeze to no end about the fact that he doesn't recycle. I have also calculated his carbon footprint. Here is a graphic representation of my findings: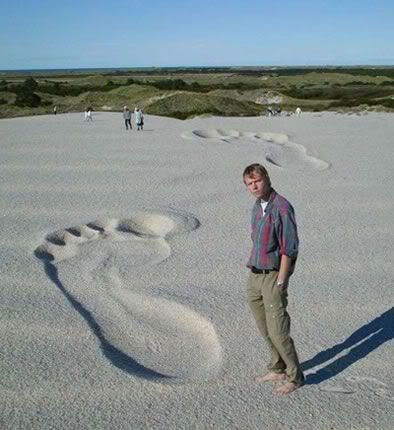 | | |
| --- | --- |
| [_strat_] Monday, January 26, 2009 1:19:29 AM | |
Well, I never buy bottled water either. Mainly because tap water is cheaper, and pretty much the same.

And I use public transportation, tho that is more because I cant afford a car with all the expenses that go along (registration, fuel, maitanance...) than because of ecology.

Oh, and I dont eat beans, therefore I am reducing the amount of gas that goes into the atmosphere
| | |
| --- | --- |
| [Soylentgreen4u] Sunday, January 25, 2009 10:24:15 PM | |
THOUGHT THIS MIGHT BE FUN...TO GET A LITTLE EXTRA INSIGHT ON OUR DAILY HABITS ON AN IMPORTANT ISSUE...WELL FOR STARTERS I...
-RARELY IF EVER USE THE CLOTHES DRYER ANYMORE,ALWAYS AIR DRY.
-I NEVER ,EVER BUY BOTTLED WATER...TAP FOR ME,I FILL A BOTTLE FOR ON THE GO ANYWHERE....