| | |
| --- | --- |
| [hellrider 31038] Saturday, December 19, 2009 1:56:43 PM | |
THE PRIEST IS NOT A HAS BEEN BAND

PREPARE YOURSELF FOR THE NEXT ALBUM.THIS IS A WARNING
| | |
| --- | --- |
| [hellrider 31038] Sunday, December 13, 2009 11:09:31 PM | |
the day in the future the PRIEST reliese a hard core ,rip your face off, total rush of power album(MIGHTY PAAAAAAAAAINKILLLLLLLLLLER STYLE) will be a huge day in the world of metal
| | |
| --- | --- |
| [hellrider 31038] Friday, December 11, 2009 8:08:50 PM | |
i cant wait to recieve my THUNDERGOD shirt from HALFORD appareL
| | |
| --- | --- |
| [hellrider 31038] Thursday, December 10, 2009 7:57:32 PM | |
as far as i know he did. anyways it is a fact..heavy metal has to be loud so you can bang your head.
[Show/Hide Quoted Message] (Quoting Message by Before The Rage from Thursday, December 10, 2009 3:41:41 AM)
| | |
| --- | --- |
| [Before The Rage] Thursday, December 10, 2009 3:41:41 AM | |
| | |
| --- | --- |
| [hellrider 31038] Wednesday, December 09, 2009 5:46:41 PM | |
Queen Elizabeth II: "Why is heavy metal so loud ?" Rob Halford: "You have to have it loud to bang your head, Your Majesty


| | |
| --- | --- |
| [hellrider 31038] Monday, December 07, 2009 7:26:56 PM | |
ITS TIME FOR SOME SERIOUSE JUDAS PRIEST STYLE HEAVY MEEETTT TTTAAALLL
| | |
| --- | --- |
| [hellrider 31038] Sunday, December 06, 2009 1:01:05 PM | |
I AM VERY EXCITED ABOUT THIS
| | |
| --- | --- |
| [hellrider 31038] Saturday, December 05, 2009 8:21:30 PM | |
I AM DEFINATLY READY TO HAVE MY FACE RIPED OFF WITH SOME NEW JUDAS PRIEST STYLE HEAVY MEEEETTTT TTTTAAAALLLL.AHHHHHHHHHHHHHHHH TOTAL RUSH OF POOOOOWWWWWEEEEEERRRRRRRRRRRRRRR
| | |
| --- | --- |
| [Head banger] Saturday, November 28, 2009 11:18:10 PM | |
| | |
| --- | --- |
| [J.D. DIAMOND] Saturday, November 28, 2009 3:29:36 PM | |

DARKTHRONE - UNDER A FUNERAL MOON - 1993



Yeah your right hellrider,the classic stuff does have that certain feel to it and what you are saying doesn't sound "stupid" because it is true. I was jacked when I first bought this album (I think it was 95' )it blew me away at how necro and raw it was,back then there was only a hand full of shit like this back in 95' and compared to each other,it made the death metal scene look like "humanists"!!! LOL!!! This was HUGE for underground extreme music back then but sadly today nobody sees this LP or band this way because of the exposure and commercialism of "trend bands" that stole this image and sound and threw it on MTV and shit. Its a disgrace to say the least.Oh well,those of us that remember this era and scene will always know the real truth about true black metal.The rest can giggle and laugh at trend bands that they see on MTV.
[Show/Hide Quoted Message] (Quoting Message by hellrider 31038 from Saturday, November 28, 2009 12:42:58 PM)
| | |
| --- | --- |
| [hellrider 31038] Saturday, November 28, 2009 12:42:58 PM | |
i also find that classic stuff has a certain feel to it might sound kind of stupid.but its just what i feel.lol
[Show/Hide Quoted Message] (Quoting Message by hellrider 31038 from Saturday, November 28, 2009 12:04:42 PM)
| | |
| --- | --- |
| [hellrider 31038] Saturday, November 28, 2009 12:04:42 PM | |
personally i think that classic black metal is serious stuff man DEFINATLY CRANKING MATERIAL.lol from what i have heard and what you have intruduced us to.
[Show/Hide Quoted Message] (Quoting Message by J.D. DIAMOND from Saturday, November 28, 2009 1:48:34 AM)
| | |
| --- | --- |
| [J.D. DIAMOND] Saturday, November 28, 2009 1:48:34 AM | |
Well,actually the birth of black metal was in 1980 with Venom's In League With Satan demo,and 1981 with the debut album 'Welcome To Hell". I got heavily into Venom in 1983 when I first heard the "Black Metal" album(1982). Bands like Slayer with Show No Mercy,Haunting The Chapel,Hellhammer and even the melodic Mercyful Fate were considered "black metal" back in the early 80's because it was pure "satanic" metal. I happened to notice the Norwegian scene in about the end of 1994 or so and have been a fan ever since. But today,its just plain ridiculous to create any new black metal bands because the scene just wasn't supposed to have this many bands.

But yeah,almost every person today 99% of them that calls the old Norwegian black metal scene a joke never even had a clue there was such a thing back in 94' and it cracks me up. Its so commercialized today,and has been for the last 12 years or so.1998 really was the ending of this scene and by 2000 it was compleately ruined. But those of us that were there back in 93' or 94' when this music was fresh remembers what it was like...yes it was silly even back then but at the same time those members of the bands were dead serious lol!! It was just a different time,era and scene altogether,these people that laugh at black metal for the wrong reasons can never capture what I am talking about because they simply were listening to anything but black metal in 1993/94!!! lol!!!

[Show/Hide Quoted Message] (Quoting Message by hellrider 31038 from Saturday, November 28, 2009 12:45:00 AM) Edited at: Saturday, November 28, 2009 1:49:20 AM
Edited at: Saturday, November 28, 2009 1:50:34 AM
| | |
| --- | --- |
| [hellrider 31038] Saturday, November 28, 2009 12:45:00 AM | |
wow COOOOMMMMMMMMAAAAANNNNNNDDDDDEEEERRRRR THATS A LONG FUC?EN TIME MAN.since like the birth is,nt it
[Show/Hide Quoted Message] (Quoting Message by J.D. DIAMOND from Friday, November 27, 2009 5:13:18 PM)
| | |
| --- | --- |
| [J.D. DIAMOND] Friday, November 27, 2009 5:13:18 PM | |
What cracks me up is indeed the "black metal scene today" but whats funnier is that 100% of the poeple that say black metal is funny didn't even know there was a black metal scene back in 1993 or so,I did because I've been following black metal since 1983 but these losers nowadays point out the trend bands and say thats the way its always been yet in 93' if you told them about Mayhem,Darkthrone,Immortal or Emperor they would all say "who"?? LOFL!!!
| | |
| --- | --- |
| [Mr. Dave Genocide] Thursday, November 26, 2009 1:17:34 AM | |
The fact that the battle between Priest and Maiden will NEVER end! There's always gonna be someone out there who'll want to start the "battle" between the two Metal giants. I'm gonna stop here before I get into it!
| | |
| --- | --- |
| [Deep Freeze] Wednesday, November 25, 2009 11:20:20 AM | |
Has anyone besides me noticed that literally everything Wayne Brady does fails miserably?
| | |
| --- | --- |
| [hellrider 31038] Wednesday, November 25, 2009 12:19:25 AM | |
sometimes i think to myself of all the crazy things i would do to ensure the next priest album is a RIP YOUR FACE OFF,TOTAL RUSH OF POWER ,SCREAMING HEAVY MEEETTT TTTAAALLL MONSTER
| | |
| --- | --- |
| [hellrider 31038] Tuesday, November 24, 2009 8:46:19 PM | |
THIS IS GOING TO BE MY KILLER HALFORD VEST.FUC? YEAH.just picked it up tonight
for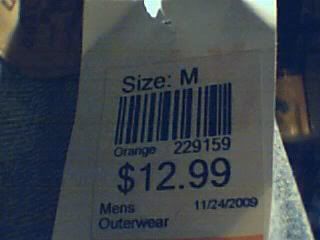 Edited at: Tuesday, November 24, 2009 8:48:42 PM
Edited at: Tuesday, November 24, 2009 8:49:23 PM